Nicki Minaj Scared of Criticism? Disses Mariah Carey in Song (VIDEO)
Nicki Minaj recently admitted that she was scared of how her fans would perceive her after watching a clip of her on "American Idol" battling it out with Mariah Carey. Howeve,r that didn't stop the hip-hop artist from taking blatant jabs at the pop star within her song lyrics.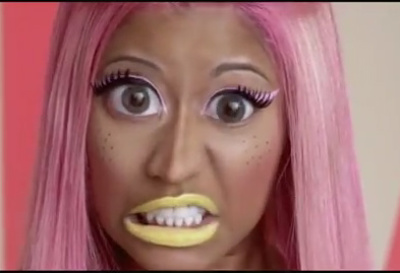 "American Idol" has yet to debut its new season, but mass amounts of attention has already been brought to the new judges, particularly Minaj and Carey, who appear incapable of getting along. The two have had an ongoing feud since it was announced that they would be judges together.
Minaj even admitted that she was "scared" of how her fans would receive her on the show after a video short was released of her being "mean" to some of the contestants. The star admitted that she was sensitive when it came to the way people felt about her.
"I'm scared. Maybe I shouldn't have been so like ... It's hard for me to not say how I really feel ... Everyone else is so nice. I was just thinking back about some things and I was like, 'I wonder if that was not so nice.' I don't think I'm going to be able to watch [the premiere]. I'm going to be so nervous. But I know people are going to love it. I think it's a great dynamic," she said.
But Minaj has been less afraid of offending Mariah Carey. According to past reports, she has called her names like "boring" and "old." Her latest set of lyrics also appear to include a feud that occurred between the two stars.
"I'll take it, sign on the dotted line / But I'm quick to the check a b---- if she outta line, shout out Mike Darnell and Nigel / Why these bums so mad that the queen on Idol, huh?" one of lines reads, referencing Nigel Lythgoe, executive producer of Idol, and Mike Darnell, president of Alternative Entertainment for Fox.
On the other hand, in the past Minaj has admitted that she looked up to Carey and considered her "one of the best singers in the world."
Nicki Minaj and Mariah Carey Fighting on American Idol (WARNING LANGUAGE)