Nigeria 'aiding' Boko Haram by freeing hundreds of jihadis who've repented, activist warns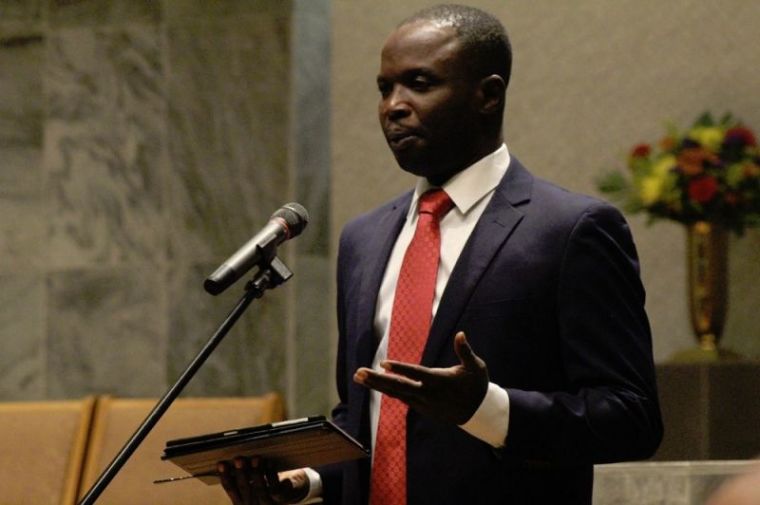 WASHINGTON — The Nigerian government is "aiding and abetting" the deadly Islamic terrorist group Boko Haram by releasing captured militants who have "repented," a Christian activist has said.
As the Borno state-based Boko Haram has made a name for itself as one of the world's deadliest terrorist outfits, the Nigerian government appears to be paying "lip service" to the terrorist group, human rights activist Stephen Enada warned last weekend.
Enada, who fled from persecution in Nigeria in 2016 and was granted temporary non-immigrant worker status in the United States, spoke on Saturday night in front of believers gathered for the fifth annual night of prayer for the persecuted church hosted by the nonprofit group One Body in Washington, D.C.
Before giving his call for prayer to those gathered at the Chinese Community Church in Chinatown, Enada sat down with The Christian Post to speak about the ongoing persecution of Nigerian Christians. Boko Haram in northeast Nigeria and radicalized Fulani attacks targeting Christian villages and farms in the Middle Belt have killed thousands this year.
"It has been explained away by the government that Boko Haram has been decimated," Enada, co-founder of the International Committee on Nigeria, explained. "But that is not true because most of the attacks on soft targets are still going on."
The Nigerian military has claimed that it has completely "defeated" Boko Haram, a radical Islamic insurgency that began in 2009 and has killed tens of thousands of Christians and others across Nigeria, Chad, Niger and northern Cameroon, and forced about 2 million to flee.
However, news reports of abductions and attacks carried out by the terrorist outfit over the past several months have indicated that a government defeat of Boko Haram has not yet been completed. Additionally, Enada said the group still controls some territory.
"It is not eradicated. If the government says that Boko Haram has been eradicated, that is a big lie," Enada said. "I keep on telling people that when you talk about these insurgents in Nigeria, our government has actually paid some lip service to it."
Enada warned that at the same time the military forces are fighting against Boko Haram insurgents, the government has released hundreds of other captured Boko Haram insurgents "saying that they have repented."
"It is like sort of a granting the terrorists amnesty," Enada explained. "That just tells you that this is really showing that the government of Nigeria is actually aiding and abetting these folks. These are folks that have unleashed terror on the community and now at this time, the government is taking it upon themself to set them free."
As recently as two months ago, Enada explained, the government released about 500 suspected Boko Haram insurgents.
In January, the government released 244 "repentant" Boko Haram suspects who have undergone rehabilitation.
"At the end of the day, it shows that these insurgents are actually supported, or maybe the government gives them comfort," Enada contended. "So now, it just shows anybody anywhere in the world that it is good to terrorize. Afterall, if [the terrorists] say [they] have repented, they will be granted a reprieve or they will be reintegrated into community."
In February, the government released about 475 suspected Boko Haram suspects. According to Reuters, the government was not able to charge them with crimes "due to lack of sufficient evidence against them."
Enada accused the Nigerian government of "obstructing justice."
"Our judicial system is clear that criminal elements and terrorist activities are subject to prosecution," he continued. "For government not to submit these insurgents for prosecution means they are obstructing justice."
Enada said there isn't much information available on what has happened with the Boko Haram suspects that have been released from detention. He said he doesn't know if they have been integrated into society or if they are planning to regroup and "unleash terror again."
"But what this has actually shown everybody is that the act of terrorism in Nigeria is not bad because government will definitely forgive you if you come out and say you are sorry," he added.
Along with killing of over 20,000 people since 2009, Boko Haram is also responsible for the abduction of thousands of boys and girls.
Enada also spoke out against the Nigerian government's response to attacks by Fulani herdsmen on Christian farms and villages in Nigeria's Middle Belt. Fulani are a nomadic ethnic group of livestock herders.
Over the summer, it was reported that as many as 6,000 people, mostly women and children, have been murdered by Fulani herdsmen since January.
Enada, who fled from Nigeria after his cousin was killed by Fulani herdsmen in the Benue state, said that Fulani herdsmen have taken after radical groups like Boko Haram in the last seven or eight years.
Enada said there are similarities to Boko Haram in the way Fulani herdsmen are now attacking communities and farms with "sophisticated weapons" in order to drive out the indigenous population and occupy the land.
"Recently we have seen Fulani militias have Boko Haram branding and wreaking havoc in communities with sophisticated weapons and anyone who stands in their way is killed or decimated. When this happens, they occupy," Enada said. "It is not that they are unknown. It is just that government is looking the other way. If someone is a terrorist and overruns a community, the government should make sure certain people are arrested and prosecuted."
Enada said he isn't sure why the government isn't doing more to help return the occupied land to its rightful owners and prosecute the Fulani culprits.
Enada reasoned that it could just be "complacency" or maybe the fact that Nigeria President Muhammadu Buhari is ethnically Fulani.
"Maybe this has limited his moral authority as a leader," Enada said. "These communities and villages have been displaced and ransacked and you see Fulani imposing themselves in that community. They are not arrested or being persecuted. Rather, it is just government inaction showing us that government is culpable."
With government inaction, Enada and his International Committee on Nigeria are lobbying foreign governments to apply pressure on Nigeria to protect its citizens.
"In 2016, it reached the highest level of persecution in the Benue state when one of my cousins were killed, 500 women and kids killed and good folks were killed," Enada said. "I asked myself, 'What can I do?' I started to look at the international approach to it."
The International Committee on Nigeria is calling on the U.S. to send a special envoy to Nigeria to help in "coordinating an adequate response to the crises in Nigeria" and "counter the increasing violence in Nigeria."
Last week, Assistant Secretary for the State Department Bureau of African Affairs Tibor P. Nagy visited with Nigerian government officials in Abuja during his trip to West Africa.
"Nigeria has several very, very serious issues going on at the same time. We have the crisis in the Northeast," Nagy stated prior to leaving on his trip. "We have the historical problems in the Middle Belt, which, unfortunately, recently has led to serious loss of lives."