Nigeria Deploys Troops to Aid Christians as Experts Fear Holy War (VIDEO)
The Nigerian government deployed troops to several embattled cities in the northern region of the country this weekend after a series of deadly attacks from Boko Haram – including Christmas Day violence that killed 43 people – and threats from the Islamist terror sect toward Christians to flee the area.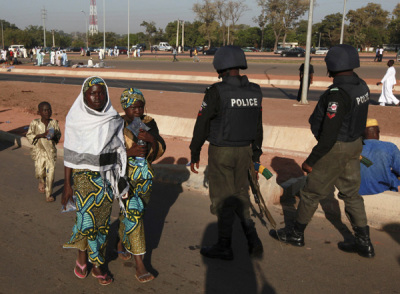 Two platoons were sent to Plateau and Borno states in northeastern Nigeria to combat the escalating violence between Boko Haram and local communities.
President Goodluck Jonathan, who has been criticized for inaction in the face of Boko Haram's terrorism, called for a state of emergency in the northeastern states where the sect's attacks have been most frequent.
Jonathan told reporters Tuesday that "patrols are on and life goes on as normal," but citizens in the tumultuous region fear retaliation from Boko Haram following dubious warnings.
Shehu Sani, president of the Civil Rights Congress, said many citizens are hesitant to side with police.
"Citizens are afraid of cooperating with the government out of fear that they will be targeted by the group," Sani told Bloomberg Businessweek. "The Nigerian police have not, over the years, been well trained or equipped in handling terrorism issues of this kind due to the corruption in the service."
Officials are questioning the seriousness of an ultimatum provided by Boko Haram to Christians to vacate the area within three days. Christian leaders and government officials have encouraged Christians to stay in the area, but Boko Haram's track record suggests the sect plans to bring its threats to pass.
"For any group to tell Christians in northern Nigeria to move out is farce because you have indigenous northerners who are Christians; where can they go to?" Sani said. "But the fact remains the threat is credible and the group can launch attacks in churches."
Experts in the region fear war may break out if persecuted communities are pushed any farther without government intervention. Following the Christmas Day attacks, an Islamic school in mostly Christian southern Nigeria was bombed by an undetermined source.
"The strategy by [Boko Haram] is simply to draw the larger Muslim and Christian population into a civil war," Sani said.
Indeed Christian groups have called for retaliation – or, at least, a self-implemented defense.
The Christian Association of Nigeria (CAN) issued a statement last week calling for Christians to defend themselves from Boko Haram attacks, suggesting that Nigeria already finds itself in a war.
"The Christian community is fast losing confidence in government's ability to protect our rights to religious liberties and life," the statement read. "The consensus is that the Christian community nationwide would be left with no other option than to respond appropriately if there are any further attacks on our members, churches and properties."
Nigerian Military Mobilizing Against Boko Haram
CAN's youth wing expressed similar sentiments during a meeting Monday, saying that Christian youth will no longer hold back from retaliating against Boko Haram.
Several experts agree war may be around the corner. David Cook, a Boko Haram expert at Rice University, believes that, although the violence is not necessarily between Muslims and Christians, Boko Haram's aim is to draw both communities into a religious war.
"As more and more territories become ungovernable, such as Maiduguri," Cook told CNN, "then Muslims more and more will want to join Boko Haram, if only because it represents the one group that can actually project power and hold out the illusion of security to the people."
Boko Haram, whose name translates to "Western religion is sacrilege," has attacked communities throughout the country over the last two years in their quest to implement Shariah law in Nigeria. The country is split in half, approximately, between Muslims in the north and Christians in the south.