Nigeria Unveils Africa's Largest Jesus Statue 'Jesus de Greatest'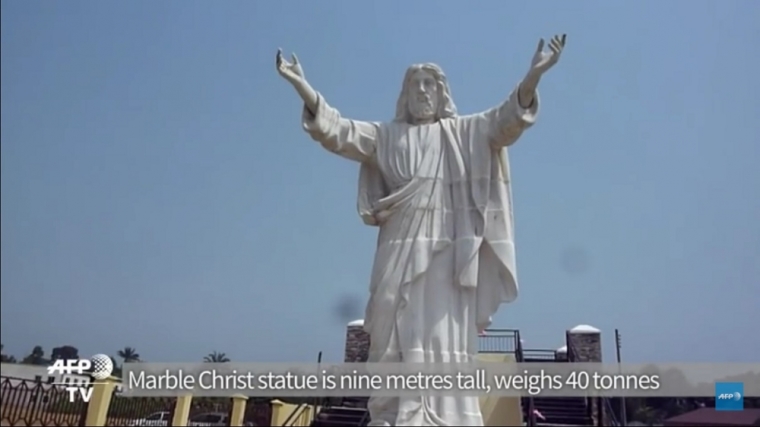 A Nigerian village celebrated the New Year by unveiling the largest statue of Jesus Christ in all of Africa, standing at 28 feet tall and weighing 40 tons.
Nigerian news website Naij.com reported on Sunday that the unveiling ceremony took place in Abajah village in Imo state on New Year's Day. The statue, built by a Chinese company and carved in white marble, depicts Jesus stretching out his arms in a welcoming pose, and has been dubbed "Jesus de Greatest."
The ceremony attracted hundreds of Roman Catholic priests and worshipers to the St. Aloysius Catholic Church to celebrate the unveiling of the statue, which had been commissioned in 2013.
"It's the biggest statue of Jesus on the continent. Definitely pilgrims will come," said Obinna Onuoha, the local businessman behind the project.
Presiding bishop Augustine Tochukwu Okwuoma added that it would be a "very great symbol of faith" for Christians.
"It will remind them of the importance of Jesus Christ," Okwuoma said, according to AFP.
Onuoha, who owns an oil and gas distribution company, said he hopes for better things for Nigeria in 2016, expressing the belief that religions can exist side-by-side.
He shared that his idea of building a giant statue of Jesus came to him in a dream nearly 20 years ago, and he had promised his elderly mother that he would build a church.
It is not yet known how much money was spent on constructing the statue.
Nigeria has been plagued by an Islamic militant uprising for close to six years now, with terror group Boko Haram killing well over 20,000 people in its attacks on citizens.
The terrorists have heavily targeted Christians, wanting to drive them out of the country, which has a largely even Christian and Muslim population.
President Muhammadu Buhari has launched a strong military campaign against the extremists, but despite his suggestions that Boko Haram has "technically" been defeated, the attacks continued throughout Christmas and the final days of the year. Close to 100 people were slaughtered over the Christmas holidays in various shootings and suicide bombings, with children among the victims.
At least 2.5 million people have been internally displaced due to violence, and as many as 1 million children have been prevented from going to school due to the militant threat.