Nikolas Cruz, Valentine's Day School Shooter Was Battling Autism, Grief and Heartbreak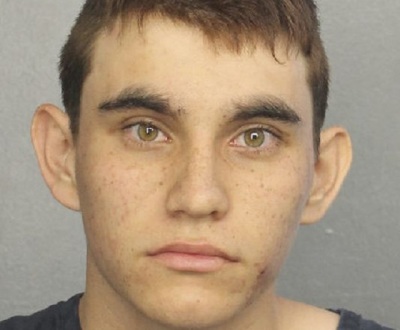 Nikolas Cruz, the 19-year-old charged with 17 counts of premeditated murder after he allegedly gunned down students and adults at his former high school in Parkland, Florida, was a troubled student battling autism and grief from recent relationship heartbreak and the death of his adoptive mother, family and friends say.
"So many signs that the Florida shooter was mentally disturbed, even expelled from school for bad and erratic behavior. Neighbors and classmates knew he was a big problem. Must always report such instances to authorities, again and again!" President Donald Trump tweeted Thursday morning as Cruz's profile emerged.
Investigators cited by CNN believe that during his attack on the Marjory Stoneman Douglas High School Wednesday just before the end of the school day, Cruz pulled the fire alarm to ensure he could kill as many people as possible. Broward County Sheriff Scott Israel said they believe Cruz was armed with an AR-15-style semiautomatic rifle and multiple magazines.
He allegedly hid himself among hundreds of students fleeing the school during the attack but authorities were able to identify him from school security videos. He was arrested without incident in the nearby Coral Springs, Florida, neighborhood.
In the hours after the shooting, The New York Times reports, those who knew Cruz described him as a "troubled kid" who loved showing off his firearms. He also bragged about killing animals. And his mother, who the Sun Sentinel said died 3-and-a-half months ago, often had to call the police to their home to counsel him.
Amanda Samaroo, whose daughter, Elizabeth, attended Marjory Stoneman Douglas High School while Cruz was a student there, told The New York Times that he was expelled for bringing knives on campus.
"Her friends have said he was known to always be mentally ill and would kill animals," Samaroo said.
Victoria Olvera, a 17-year-old junior, told USA Today that Cruz was expelled last school year after a fight with his ex-girlfriend's new boyfriend. She said Cruz had been abusive to his girlfriend. Mathematics teacher Jim Gard said Cruz had been obsessed with a girl "to the point of stalking her."
Cruz's late mother, Lynda Cruz, died of pneumonia on Nov. 1. Her family members told the Sun Sentinel that Lynda Cruz and her husband, who also died years earlier of a heart attack, had adopted Nikolas and his biological brother, Zachary, after they moved from Long Island, New York, to Broward County.
"I know she had been having some issues with them, especially the older one. He was being a problem. I know he did have some issues and he may have been taking medication. [He] did have some kind of emotional or difficulties," sister-in-law Barbara Kumbatovich of Long Island, told the Sun Sentinel. "[Lynda] kept a really close handle on both boys. They were not major issues, as far as I know, just things teenagers do like not coming home on time, maybe being disrespectful."
Another relative who asked not to be identified said Nikolas had been diagnosed with autism and she was trying to get him counselling.
"She did her best getting him any help he needed," the relative said.
Cruz and his brother were living with a family friend in Palm Beach County after the death of their mother but he wasn't happy so he left. He moved in with a friend he knew from his time at Stoneman Douglas in northwest Broward.
Jim Lewis, an attorney speaking on behalf of the family Cruz was living with, confirmed that they opened their home to him around Thanksgiving and encouraged him to attend adult education classes. He had also been working at a local dollar store.
"The family is devastated, they didn't see this coming. They took him in and it's a classic case of no good deed goes unpunished," Lewis said. "He was a little quirky and he was depressed about his mom's death, but who wouldn't be?"
Lewis also told the Sun Sentinel that the AR-15 used in the deadly shooting was legally bought by Cruz prior to him moving in with the family. They allowed him to keep the gun under lock and key in his own room.
"It was his gun," Lewis said. "The family made him keep it in a locked gun cabinet in the house but he had a key."