Senate Pressure Forces Classifieds Site Backpage.com to Eliminate 'Adult' Ads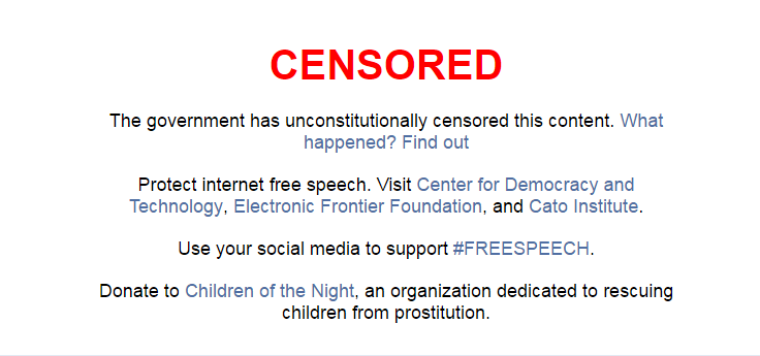 Backpage.com, the world's second-largest online classifieds site, shut its adult advertisements section hours after the release of a critical Senate report on Monday. The website, which has been under the scanner for alleged child sex trafficking and prostitution, cited 'unconstitutional government censorship' as the reason behind the removal of adult ads.
Backpage has been lambasted for offering services that promote prostitution and human trafficking for years. The National Association of Attorneys General has even described it as a "hub of human trafficking, especially the trafficking of minors."
In response to these allegations, the executives of Backpage have maintained that despite their site being used for criminal activity, they cannot be held responsible as they merely host content created by others which grants them immunity from liability under the Communications Decency Act (CDA).
A United States Senate subcommittee published a report with damning evidence against Backpage on Monday. The report, pushed by Senators Rob Portman (R-Ohio) and Claire McCaskill (D-Mo.), accuses the controversial website of actively concealing evidence of criminality by systematically editing its "adult" ads.
The report alleges that Backpage employees, at the direction of CEO Carl Ferrer, delete hundreds of words indicative of sex trafficking (including child sex trafficking) or prostitution from ads before their publication.
The committee further accuses Backpage of inaction despite knowing that the site is being used as a platform to facilitate child trafficking and prostitution. It also claimed that Backpage's founders Michael Lacey and James Larkin, along with CEO Carl Ferrer, continue to own the website through shell corporations despite having claimed to have distanced themselves from it.
The site's executives, who are due to appear before the committee on Tuesday, maintain that they are the victims of government censorship and that "the shutdown of Backpage's adult classified advertising is an assault on the 1st Amendment."
Backpage also cited praise from law enforcement agencies and child-protection organizations who said the site had been helpful in rooting out human trafficking, in its announcement on Monday.
"Like the decision by Craigslist to remove its adult category in 2010, this announcement is the culmination of years of effort by government at various levels to exert pressure on Backpage.com and to make it too costly to continue," Backpage said, speaking to the Los Angeles Times.
Backpage's lawyers have also stated that the company's executives will not be testifying when they appear before the senate sub committee on Tuesday, something the members of the committee have viewed as an admission of guilt.
"Backpage's response wasn't to deny what we said. It was to shut down their site," Senators Portman and McCaskill are reported saying by Reuters. "That's not 'censorship' — it's validation of our findings."
The company vowed to continue its legal battles, which have become an important test for the entire internet industry of whether online platforms can be held liable for the content posted on their sites.