Spirited North Carolina preacher goes skydiving for his 98th birthday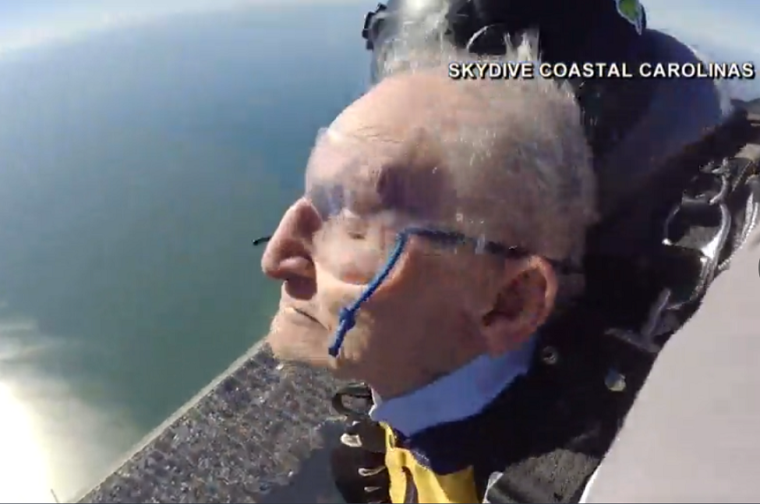 At 98 years old, longtime North Carolina preacher Roy Jernigan doesn't have a doctor, hasn't had a physical exam in 15 years and is on no medication "but the good Lord and black coffee." And to celebrate his longevity on Tuesday, he went skydiving with his family for his birthday and plans to do it again when he turns 100.
"My advice to anyone, if God blesses you and gives you the number of years that he's given me, burn out your life living for others. You'll never regret it," Jernigan told WECT News 6 after completing the challenge with his daughter and granddaughter.
Jernigan, who served as a Naval Corpsman during the Korean and Vietnam Wars and was an understudy as a clown in the Ringling Brothers Circus at the start of World War II, told WRAL News that he was never a "thrill seeker" but decided to take on the challenge which his family claims started out as a joke.
"I didn't think he'd go through with it [...] not much surprises me these days from him. He's a risk taker I guess," granddaughter April Lintner told WECT News 6.
Prior to Jernigan's jump in Southport, Pastor Scott Netterville of Ambassador Baptist Ministries in Bourbonnais, Illinois, told The Christian Post that he wasn't surprised that the man who resigned from full-time preaching in Texas just over a year ago would decide to go skydiving.
"That sounds like something Jernigan would do," said Netterville who has known Jernigan for approximately six years.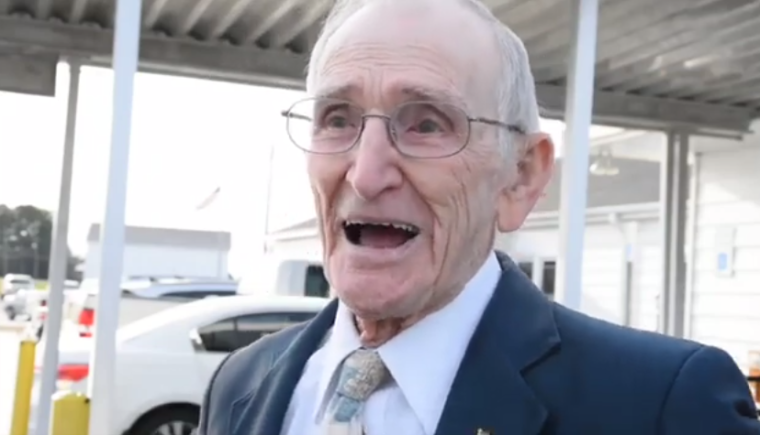 "The first time I met him it was summertime down in South Texas. He was up on a ladder working on the siding on his house. I think he was 92 years old," he said. "He is a very fit man."
On Monday night, hours before his first skydiving experience, Jernigan talked about his birthday celebration on his Preacher Roy Ministries Facebook page.
"Before I get into tonight, tomorrow is my 98th birthday. I had a lovely, lovely, birthday party on Saturday night at Parker's barbeque in Wilson. There were 75 people there. I didn't know I had that many friends in the world but what a joy and a blessing," he quipped. "I certainly appreciate everyone who was there."
He explained that he never anticipated getting to the age of 98, but counts it "a real blessing." He then shared his quirky reasoning for deciding to go skydiving.
"A lot of people say why in the world are you at your age [going skydiving]. I said because I couldn't get up the nerve any younger.
"It's a challenge and I'm not gonna say a whole lot more about that tonight, but Lord willing nothing happens on Thursday night I'll give you a report of the experience. And as I told my son, Larry, when he was talking to me about this, I said, I have walked on water but I have never flown through the air. Got to give that a chance," Jernigan said. "He said, 'When did you walk on water?' Well, I was in the Arctic Ocean and we were frozen in and I walked around the ship. The water was real cold, as a matter of fact it was ice but it was water."
Jernigan, who Lives in La Grange with his daughter, Linda, told WRAL that his mind is so sharp, "I can remember when I was two years old. I can quote the Gettysburg address."
"I mean it's, it's awesome because he's able to do. He's able to go and come. And I told him the other day, I said, 'talk about 100.′ And he said, 'Oh, I don't want to live to 100.' I said, 'Why not?' You've got good health, you've got a good mind. And so you know there's no reason that you couldn't just do what you're doing now even in two more years," his daughter told WECT 6 that she urged he preacher father after the jump.
"It was a good experience, something I had never done," Jernigan said when he landed.  "I can tell people how it feels to find out if you're gonna hit it or not."