North Korea Defector Rescued by US Pastor at UN: I Lost My Grandmother Whose Hope Was to Eat a Potato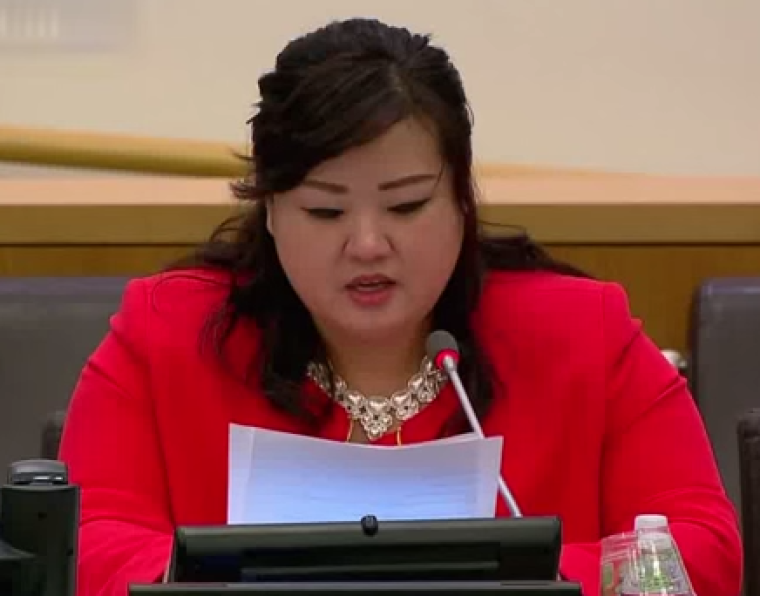 NEW YORK – A North Korean defector who escaped the Democratic People's Republic of Korea with help from a U.S. pastor unveiled plans to become a Christian missionary during a human rights event at the United Nations' New York headquarters on Thursday.
Jay Jo was rescued by Pastor John Yoon and several missionaries in 2008 after suffering years of human rights abuses in the socialist state – an experience she shared during "Victims Voices: A Conversation on North Korean Human Rights" event. Following her emotional testimony, the 28-year-old defector told The Christian Post that Yoon was instrumental in her survival.
"We met him 10 years ago, he fed our family, plus another 35 different people," Jo said of the Seattle, Washington-based pastor. "He helped us a lot and then he found a way for us to get to America."
After losing family members to starvation, torture and exhaustion in North Korea, Jo now lives permanently in the U.S. with her sister and mother. However, Jo said she is planning on returning to the DPRK as a missionary in order to support the ever-growing underground Christian churches in the region.
"I'm Christian and I want to become a missionary, so I pray a lot and study the Bible and try to help my friends and family in North Korea," Jo explained.
The North Korean native noted what life is like for Christians in the DPRK, drawing a comparison to life in the U.S.
"Underground in North Korea [there are] a lot of Christians right now, they cannot pray or sing freely like here - in church or by yourself," she said.
North Korea has ranked as No. 1 in the world for the nation with the worst Christian persecution for 13 years in a row, according to the annual Open Doors World Watch List. If the regime discovers a person is a Christian, the believer can be thrown into a labor camp, tortured, or even publicly executed to dissuade others from following the faith.
It is believed that tens of thousands of Christians are currently suffering in North Korean prison camps, according to Open Doors. The regime is suspected of detaining more political and religious prisoners than any other country in the world.
While Jo has not yet returned to North Korea, she is already communicating with Christians in the communist country, considered the most isolated in the world, by phone.
"Every time we are on the phone, we ask them about [prayer] and teach them a lot," she told CP. "But they [have] really, really strong faith – stronger than the Christians here… I hope North Korea will open."
Meanwhile, the U.N.'s "Victim's Voices" was organized by the U.S. and South Korea. The event panel included three North Korean defectors, including Jo, as well as award-winning author Barbara Demick and U.S. ambassador to the U.N. Samantha Power. During her testimony, Jo wiped tears away as she told the story of her and her family's experience in North Korea, detailing human rights abuses that included starvation, torture, and death.
"My brothers and sisters died in my arms. I lost my father who asked me to take care of my mother. I lost my grandmother whose hope was to eat a potato. I lost my younger brother who waved his hands to me without knowing we would never see each other again," she said during the event.
For more on the "Victim's Voices" event, stay tuned for more stories in The Christian Post.