North Korea Says Hydrogen Bomb Test Successful; World Leaders Alarmed
(Photo: Reuters/Kim Hong-Ji)
3 photo slide
(Photo: Reuters/Kim Hong-Ji)
(Photo: Reuters/Kim Hong-Ji)
The North Korean government claimed on Wednesday that it has carried out successfully its first-ever hydrogen bomb test, sparking concern from leaders worldwide.
"If there's no invasion on our sovereignty we will not use nuclear weapon," the North Korean state news agency declared. "This H-bomb test brings us to a higher level of nuclear power."
CNN pointed out that previously North Korea had carried out plutonium weapon tests, but a hydrogen bomb is even more powerful.
United States and South Korean officials warned that the success of the alleged tests can not be immediately verified, though the U.S. Geological Survey revealed that it measured a seismic event at 5.1 magnitude at 10 a.m. local time, which occurred 12 miles east-northeast of Sungjibaegam.
"Our government strongly condemns North Korea ignoring repeated warnings from us and the international community and pushing ahead with the fourth nuclear test, which clearly violated the U.N. resolutions," said Cho Tae-yong, a senior security official at the South Korean presidential office, according to NTNews.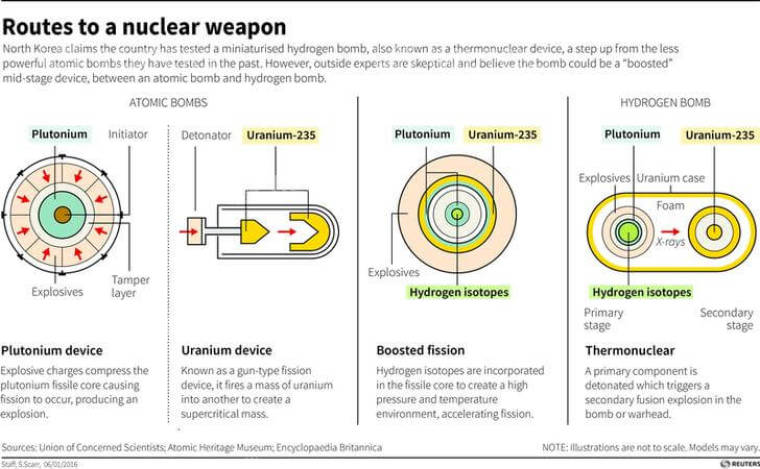 NATO Secretary-General Jens Stoltenberg added that such experimentation from the government of Kim Jong Un destabilizes international security.
"North Korea should abandon nuclear weapons and existing nuclear and ballistic missile programs in a complete, verifiable and irreversible manner and engage in credible and authentic talks on denuclearization," Stoltenberg said.
Japanese Prime Minister Shinzo Abe also spoke out, warning that a threat to Japan's safety in the form of a nuclear weapon would not be tolerated.
BBC News noted that past claims by Kim's government about developing a hydrogen bomb have been met with skepticism from experts, though developments in the isolated Pacific nation are often hard to conclusively verify.
Bruce Bennett, a senior defense analyst at the nonprofit, nonpartisan Rand Corp, said that North Korea's latest claims remain to be proven as well.
"North Korea appears to have had a difficult time mastering even the basics of a fission weapon," he said.
"This suggests that unless North Korea has had help from outside experts, it is unlikely that it has really achieved a hydrogen/fusion bomb since its last nuclear test, just short of three years ago."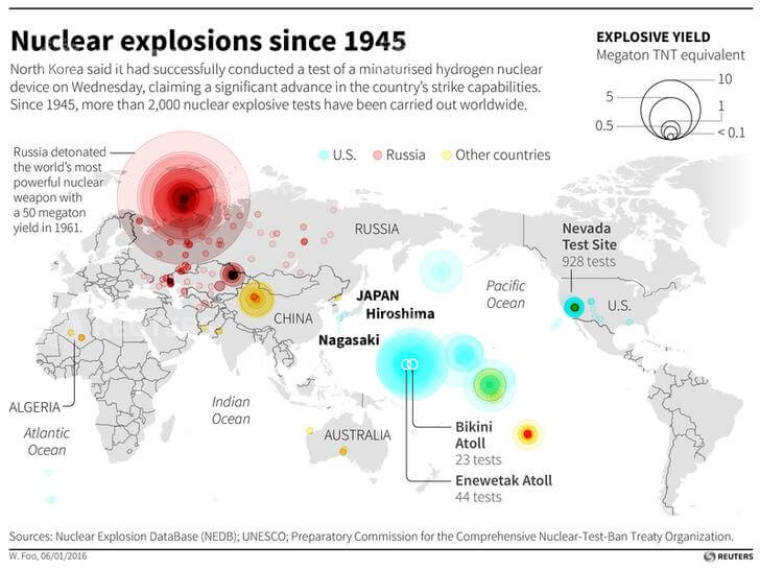 The North Korean government has been condemned by most of the world powers for its nuclear tests, along with its severe abuses of human rights, which include forced labor camps, mass executions, and the heavy persecution of Christians and other religious adherents.
China, one of the only world powers to at times lend political support to North Korea, has also criticized Kim's government for its nuclear program, which has brought about major international sanctions to the hermit kingdom.
BBC reported that China "firmly opposes" the latest test saying it was carried out "irrespective of the international community's opposition."
The United Nation Security Council announced that it will hold an emergency meeting of its members later on Wednesday to address the situation.