North Korean Defector Who Spent 28 Years in Prison Camp Details Hunger, Torture, and Cannibalism in the DPRK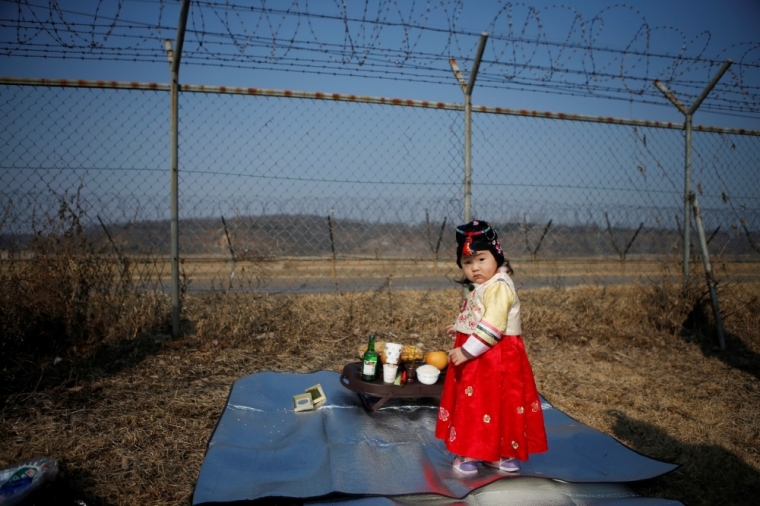 NEW YORK — Kim Hye-Sook, who survived 28 years of agonizing pain and suffering in a North Korean prison camp, offered a detailed account of the forced labor, starvation and torture she endured under the Communist dictatorship while speaking at the U.N.'s "Victims Voices: A Conversation on North Korean Human Rights" event on Thursday.
Organized by the United States and South Korea, the event took place at the U.N.'s New York City headquarters and featured testimonies on human rights abuses in the DPRK from Hye-Sook as well as two other North Korean defectors. With help from a translator, Hye-Sook detailed her harrowing experience, which started when she was captured alongside her family at just 13 years old for reasons withheld from her at the time.
"I was taken to prison camp 18 and I was imprisoned there for 28 years, living in a life that is unimaginable, a life that is worse than a dog's, living a life like a slave," the North Korean defector began during the panel on human rights.
More than 200,000 North Koreans, including children, are imprisoned in camps where many perish from forced labor, inadequate food, and abuse by guards, according to Human Rights Watch. The isolated, secretive nation has no media, functioning civil society, or religious freedom, and pervasive problems include arbitrary arrest, lack of due process, and torture.
During the "Victim's Voices" event, Hye-Sook went on to describe life at the notoriously brutal prison camp known as Pukch'ang, which involves 16 to 20-hour workdays in dangerous coal mines while subsisting on just one meal a day of corn-based porridge. Furthermore, Hye-Sook explained the regime's fear and manipulation tactics.
"In this prison we were divided into three per group, and we were supposed to monitor each other and write up a detailed report of what the other person has done for the instructor," she explained. "If we were not able to do that for different reasons, whether sick or unable to write because we had injured our hands, then they would tear our mouth with plyers or handcuff us until we lost circulation. We were beaten, we were tortured."
Public executions and brainwashing were also commonplace at camp 18, and consequently, Hye-Sook was forced to study revolutionary ideology and party policies.
"In this prison camp, especially in the coal mines, you have to be absolutely submissive to [do] anything that was asked of us," Hye-Sook continued. "If you asked questions about why you were there, you were immediately executed publicly. I have seen and was a witness to multiple executions in this prison. And after [DPRK supreme leader] Kim II Sung died, and Kim Jong-Il came to power, there was an incident [when the regime] sent people who were loyal to Kim Il Sung to prison camps. They were high level officials asking why they were taken to prison camps, if they asked, they were executed immediately."
Hye-Sook was able to survive imprisonment by raising healthy livestock and giving the animals to guards. When she was released almost three decades later at 42-years-old, Hye-Sook finally learned the reason for her imprisonment — her grandfather had escaped to South Korea years before during the Korean War.
"When I was taken to the prison camp I did not know why, all I said when I was taken was thank you. So I don't know why they would take an innocent 13 year old to the prison camp," she revealed. "I did not know the name of my grandfather and had never seen him."
Following her release from camp 18, Hye-Sook escaped to China, but was caught, sent back to North Korea, and returned to the very same prison camp. There, she learned that conditions had somehow worsened in her six-year absence, with nearly-starved prisoners turning to cannibalism for survival.
"I found out that the situation was much worse than when I had left it in the past," Hye-Sook said. "The situation was that people were eating other people."
Details of Hye-Sook's second escape from North Korea are little-known for reasons of safety since she still has family imprisoned. Today, Hye-Sook lives in South Korea, and she has penned a memoir titled A Concentration Camp Retold in Tears.
"It is not possible for me to tell you the story of my life and 28 years of imprisonment in just a short period of time," she said in her closing statement at the U.N. "At least I know now why I was imprisoned. However, my younger brothers are still there. [It's been] 44 years, they don't know why they were taken to that prison."
Meanwhile, panelists at the U.N.'s human rights event on April 30 also included North Korean defectors Jay Jo and Joseph Kim, U.S. ambassador to the U.N. Samantha Power, and award-winning author Barbara Demick, who served as moderator.
While the North Korean regime is known to be committing unprecedented human rights abuses, it's also suspected of detaining more political and religious prisoners than any other country in the world. For the 13th consecutive year, the nation remains at the top of Open Doors USA's World Watch list of countries where persecution is most extreme.