North Koreans Urged to Be 'Human Shields' for Kim Jong-un (VIDEO)
North Korea's government has issued a New Year's Day editorial calling for the people to act as "human shields" and protect new leader Kim Jong-un.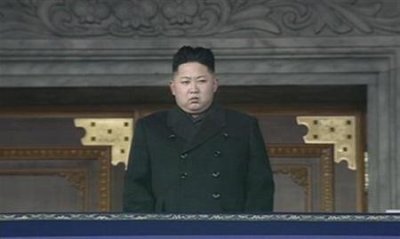 The editorial was issued in state newspapers yesterday as part of its New Year's Day tradition. Kim Jong-un took power after his father's death on Dec. 17, 2011, and papers also hailed former leader Kim Jong-il's leadership. The editorial read in part: "Glorify this year 2012 as a year of proud victory, a year when an era of prosperity is unfolding, true to the instructions of the great General Kim Jong-il."
Writers called for North Koreans to fiercely support their new leader, Jong-un, and said, "The whole party, the entire Army and all the people should possess a firm conviction that they will become human bulwarks and human shields in defending Kim Jong-un."
"Kim Jong-un, the supreme leader of our Party and our people, is the banner of victory and glory of Songun (military-first) Korea and the eternal center of its unity," they added.
The papers also noted that Kim Jong-un will continue on in his father's footsteps and called him "identical" to Kim Jong-il. They also stated that his grandfather, Kim Il-sung should be revered, as 2012 is the 100-year anniversary of his birth. Jong-un's regime has already stated that there will be "no change" in its policy toward South Korea and world leaders.
"We solemnly declare with confidence that the South Korean puppets and foolish politicians around the world should not expect any change," the government stated last week.
South Korean President Lee Myung-bak responded by saying, "If North Korea comes forward with a sincere attitude, it will be possible for us to work together to open a new era. We are ready to resolve security concerns on the Korean peninsula and provide assistance to revive North Korea's economy through agreements in the six-nation talks."
North Korea Human Shields
North and South Korea have been at odds since early 1950, when the Korean War split the countries apart and ended with a truce instead of peace treaty. There have been attacks led by both countries, but analysts remain hopeful that Jong-un's new role could foster a period of new relation.