New North Point Music Single, 'Death Was Arrested,' Inspired by a Tombstone
The story behind this highly anticipated song and what its writers hope it will accomplish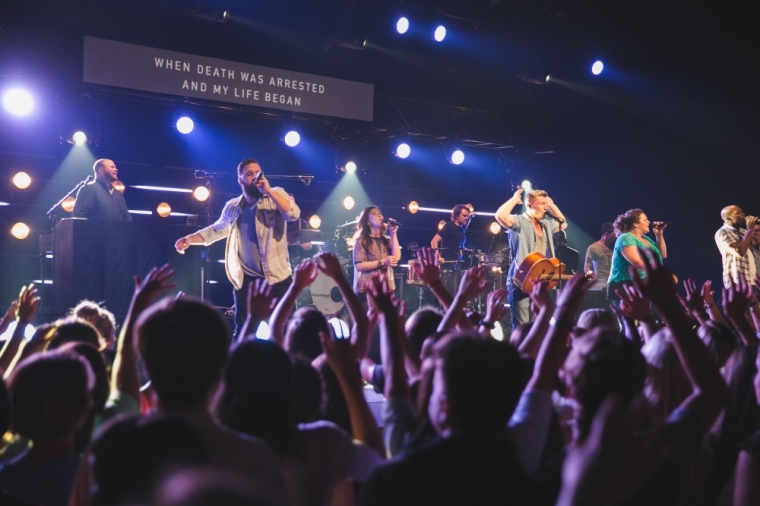 A new single from North Point Music, "Death Was Arrested," was released December 4 after several months of anticipation within and beyond the worship community. Just hours after its release, the song hit #1 in the "Christian & Gospel" category on iTunes and #12 overall.
Written and produced by the North Point InsideOut band, songwriters believe this song has the potential to reach a cross-section of churches and individuals with a message that is gripping and contemplative yet overwhelmingly hopeful and life giving.
"Alone in my sorrow and dead in my sin, Lost without hope with no place to begin," the song begins. "Your love made a way to let mercy come in, When death was arrested and my life began."
North Point Music is the Alpharetta, Georgia-based record label and music publishing company of North Point Ministries, one of the largest and most influential networks of churches in the country.
The inspiration
The impetus for this song came three years ago, when North Point drummer Brandon Coker was visiting his uncle in the small town of St. Mary's, Georgia.
"I came across a gigantic cemetery, and one tombstone in particular caught my eye," recalls Coker, 30, originally from Griffin, Georgia. "It said, 'Here rests what was mortal of Samuel Burr, age 42. In search of health far from his endeared home, death arrested his progress on the 2nd of April 1831. Quietly he fell asleep in the Christian hope of immortality and glory forever.'"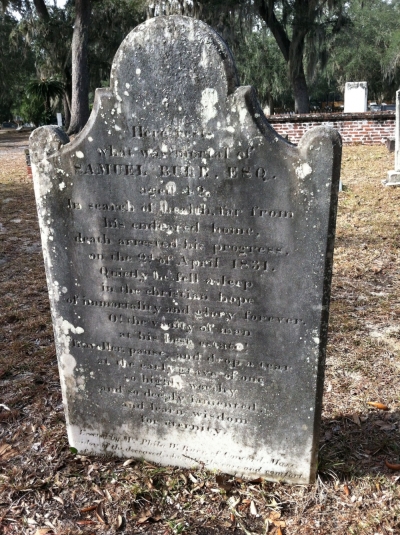 "Usually you don't think beauty when you think death, but I was struck by how gorgeous and deep this was," Coker added. "It hit me pretty heavy so I took a snap on my phone and saved it for later."
Fast-forward two and half years to this past summer at North Point's student camp in Panama City, "The Walk," where Coker and fellow InsideOut band members—Paul Taylor Smith, Heath Balltzglier, and Adam Kersh—were tossing around ideas for future songs. "God brought it back to mind in that moment," recalls Coker. "I just pulled up the photo and read out the tombstone for the guys."
"The tombstone said, 'Death arrested his progress,' so we started thinking about that. We realized that death did not arrest Samuel Burr on April 2, 1831, but in fact Jesus arrested death for Samuel Burr on April 2, 1831. Christ arrested death for him when he breathed his last breath."
Redefining death
"Something about that tombstone was really sobering," reflected fellow songwriter Paul Taylor Smith. "We realized the potential and thought maybe our song could redefine what it means to trust Jesus. We soon saw that it could not only redefine spiritual death but also physical death, because death cannot separate us from the love of God."
"We wanted to communicate that salvation is much more than simply praying a prayer, but rather it is complete transformation," Smith added. "We started to think about all the things that occur when we trust Jesus, and we wanted a sweet climax at the end with Jesus being the center. This song is a gift from God; God handed this to us."
Freedom, beauty, and grace are among the themes the band sought to weave throughout the song.
"Freedom is such an integral part of our message," explained Heath Balltzglier, who wrote the outro that includes the phrase, "Forever we're free." "We are free not just from death, but also in life; we are free from the comparison trap, free from fear and doubt, free to be who God created us to be."
"The coolest night of writing"
"It was the coolest night of writing ever," recalls North Point vocalist Adam Kersh. "We wanted to paint a picture of the instant when Jesus sets us free, describing that climactic moment when Jesus rose and took His first breath and death was arrested forever."
Most rewarding in this process, Kersh said, are the responses they have seen from people who hear the song for the first time and are touched in profound ways.
"We will never forget the first few times we played the song," he reflected. "The second time we ever played it was at North Point's High School summer camp. One of the students — who was in a tough place in life and really struggling — heard the song and told one of the leaders, 'I need to know Jesus and need to know the freedom that song was talking about.'"
"We prayed that God would use this song and that people would be saved," Kersh said. "That was our prayer from the very beginning, and we have already seen God answering that prayer."
The band hopes this song will have a lasting impact in a range of different environments.
"We believe Jesus actually lived and hung on a cross and was placed in a tomb, and on the third day His eyes opened — and when they did, the definition of death for all who believe in Him changed forever because through Him we have life," added Coker. "That's what 'Death Was Arrested' is all about."
"No throw away lines"
Andy Stanley, senior pastor and founder of North Point Ministries, is passionate about promoting "Death Was Arrested" and believes the song addresses crucial truths in a compelling way.
"Every word in this song counts. There are no throw away lines; no worship speak," explained Stanley. "Sin separates. Sin separates us from ourselves, others, and God. In this way sin equates to death. I love the song because it addresses this tension. Through Christ, the separating effects of sin have been arrested."
Stanley added that his favorite line is, "Ash was redeemed only beauty remains, and my orphan heart was given a name."
"This song is blowing up in our churches around the country," said Stanley. "I'm thrilled we didn't wait for our next album project to share it with the world."
The support from North Point's church leadership and community has been a tremendous encouragement to the InsideOut band along this journey.
"We are honored and humbled to be releasing this single, and everyone at North Point has been on board from the beginning," said Coker. "We are maturing as writers and musicians, and we want to continue to write better songs that God will use to bring people into a relationship with Himself."
North Point Music was launched by North Point Community Church in 2010 "to bring local worship leaders, musicians, and songwriters together to inspire a generation and influence the church." In recent years North Point Music has grown in scope and impact due in part to the growth of North Point Ministries, which now includes six Atlanta-area church campuses and a global network of over 30 strategic partner churches as well as multiple digital platforms.
Ruth Malhotra works in Communications and Research and her areas of focus include religious liberty, family values, higher education, global missions, and grassroots politics. She is a contributor at the SixSeeds Faith & Family Channel on Patheos.com, where she frequently shares lessons on life, love, and leadership. A graduate of Georgia Tech where she studied international affairs and public policy, Ruth resides in Atlanta and is actively involved in her church and community. Follow Ruth on Twitter at @RuthMalhotra.