'God used me to make Him known': Nun thwarts burglary at Buffalo ministry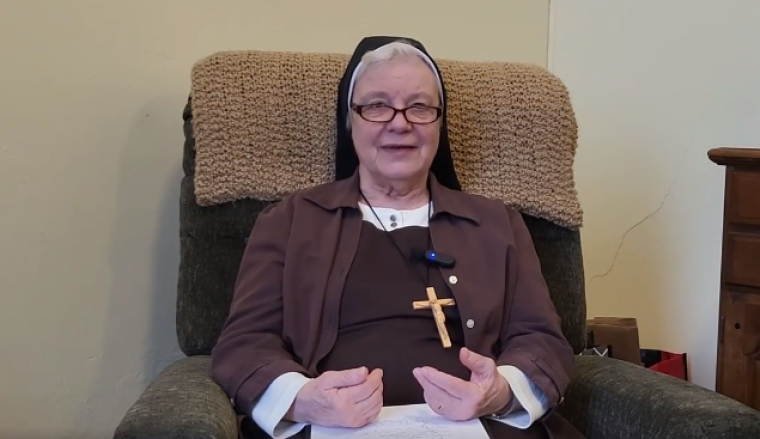 A Catholic nun is receiving widespread attention and praise for thwarting a burglary at a charity organization, humbly insisting that her actions did not constitute an example of bravery but rather God using her as an instrument to make Him known. 
Response to Love, a ministry based in Buffalo, New York, announced on its Facebook page on Jan. 14 that two vandals attempted to "climb up on the building ... to strip our building of our gutters and downspouts to make a few bucks at the scrapyard, thinking our downspouts are made of copper."
The Facebook post included photographs of the would-be burglars, one of whom was carrying a ladder to the side of the building so he could climb up to the roof.
"Sister Johnice hollered and kicked out the ladder from under them and commandeered the ladder," the center said in the post, describing the charity organization's director, Sister Mary Johnice Rzadkiewicz, as "one tough cookie."
Dismissing the characterization of her actions as "bravery," Johnice elaborated on the events that transpired that morning in a video published Jan. 19. "I had prayed that Saturday morning, wrestling with God beforehand, I wanted to sleep a little bit longer," she recalled.
"But God somehow was kind of wrestling with me and saying 'get out of that bed, get out, get out' and I kept saying 'Oh, it's so cozy and warm here, just a little bit longer,'" she added. Sister Johnice detailed that after making a "choice" to obey God, she prayed for one hour.
Johnice continued, "Walking down the stairs, I heard noises. Was it the newspaper? Was it a car passing by? I didn't know."
"When I opened the door, there was a ladder," she explained. "I knew God at that moment was doing something in my life I did not understand but I felt the call within my call was there." 
Johnice opened the door, prompting a light to turn on and one of the would-be burglars to flee. "I took the ladder, knowing that the mission, this mission is God's mission, this place is God's place, and how dare they hurt, how dare they bring evil into this place, a place of peace." 
"I knocked down the ladder. All this was happening without thought. It wasn't in anger, there was no feeling. I just felt led at the moment and when I looked up, the fellow was jumping down." 
After the man jumped off the roof, Johnice instructed him to "go" and "get out."
In an interview with Fox News opinion host Tucker Carlson, the sister said she admonished the culprits, saying, "'This is God's property, this is God's mission. How dare you do this.'" 
She stressed that her actions also led to no harm being done to her, others at the center or the thieves. 
In her initial video response to the incident, the nun said, "I know why it happened," declaring that "In my life, I want to do everything to make the dream of God come true." Johnice made it clear that she did not want any credit for thwarting the robbery.
"Was it about the incident? Was it about me? No. Every TV station, every radio station, even 'Inside Edition' is covering the story. God used me to make Him known. We're called to do that every day in our life, whether we're a mechanic, whether we're a mother, whether we're a father, whether a sister or priest. How do I respond to the call that comes to me from God?"
She concluded her remarks by insisting that everyone has the same call from God to make Him known: "When we awake in the morning, we give our life, ourself and our whole day to God. And we ask him to use us as best as we can to make Him known. Because in this world of despair and violence and ugliness, He's so hidden. Who can open the light and the door to make Him known? It's us."
"Maybe you won't have an incident as mine," she added, stressing that "God starts ever so gently, so slowly and He smiles and He gives the courage, He gives the strength and He gives the direction and He tells us what to do."