NY Atty. Gen. Resigning Over Sexual Misconduct Once Sued Pro-Lifers for 'Unwanted Physical Contact'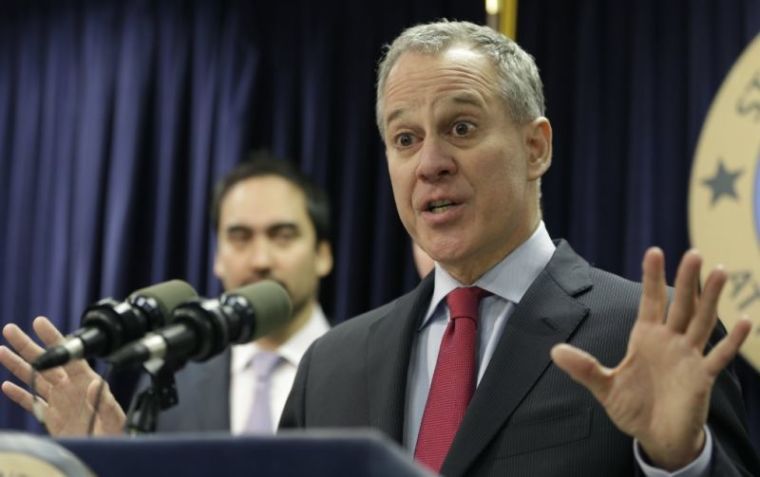 Former New York Attorney General Eric Schneiderman, who recently resigned over past actions of sexual misconduct, once sued a group of abortion clinic protesters for, among other things "unwanted physical contact."
Schneiderman resigned as attorney general on Tuesday in response to a New Yorker article published the day before in which four women accused him of physical abuse, specifically choking.
While serving as attorney general, Schneiderman maintained a pro-choice position, at one point filing a federal lawsuit against 14 pro-life activists over their protesting at an abortion clinic. Among other things, the suit accused the protestors of engaging in "unwanted physical contact."
"Since 2012, protesters have subjected incoming patients to a barrage of unwanted physical contact, as well as verbal abuse, threats of harm, and lies about the clinic's hours and its services," alleged the lawsuit, filed last year.
"Protesters descend on approaching patients to harangue them, sometimes pinning them against the clinic's exterior wall or parking meters, and even forcing them into the street and oncoming traffic as they try to escape the protesters. Some protesters go so far as to touch or grab at patients to get their attention and force printed anti-choice materials on them."
The attorney general based his suit on the federal Freedom of Access to Clinic Entrances Act (FACE). Arguments were heard earlier this year before U.S. District Judge Carol Bagley Amon.
Last week, Schneiderman posted a video on the official NY Attorney General Twitter account documenting how he worked at an abortion clinic a year before the 1973 Supreme Court decision Roe v. Wade.
"A year before Roe v. Wade, I graduated from high school. I didn't go right to college. Instead, I went to Washington, DC and got a job working at an abortion clinic," recalled Schneiderman.
"One of my many duties at the clinic was to drive out National Airport to meet women flying in to get an abortion and take them back to the clinic."
Schneiderman added that he would "never forget those women," specifically "their fear and their courage" to get what he described as "a simple medical procedure."
On Monday, the New Yorker ran a story by Jane Mayer and Ronan Farrow in which four women, including two speaking on the record, accused Schneiderman of physically attacking them.
Schneiderman, who as attorney general had gone after Hollywood mogul Harvey Weinstein after he was accused of sexual harassment, reportedly physically and sexually harassed the four women.
"His hypocrisy is epic," said Michelle Manning Barish, one of the accusers, to the New Yorker. "He's fooled so many people."
For his part, Schneiderman initially denied any wrong-doing, claiming to the New Yorker that the physical violence was part of "role-playing and other consensual sexual activity."
Former pro-choice allies, like Planned Parenthood Federation of America Executive Vice President Dawn Laguens, have agreed with Schneiderman's decision to resign.
"Time's up on people whose public and private actions do not match. Consent cannot be assumed - it must be freely given, without coercion or threat. AG Schneiderman is no longer a believable or trusted advocate for those he pledged to serve. It's right that he resign," tweeted Laguens.
Replacing Schneiderman as acting attorney general until the next election is Barbara Underwood, reportedly the first woman to serve as attorney general for the Empire State.