NYC Tells Men It's OK to Go Into Women's Bathrooms in Citywide Ad Campaign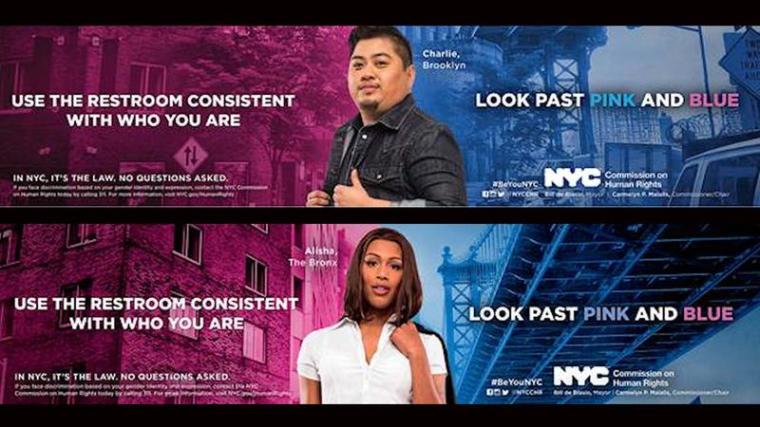 New York City Mayor Bill de Blasio has launched America's first government-sponsored citywide ad campaign that encourages residents who are men according to their birth sex to go into women's restrooms.
The ads, which read: "Use the restroom consistent with who you are. Look past pink and blue," are set to appear in subway cars, bus stops, and phone booths, among other places throughout the city.
"No one deserves to be denied access to bathrooms or discriminated against for being who they are. Every New Yorker has the legal right to use the bathroom consistent with their gender identity, no questions asked — and these powerful ads affirm this right," de Blasio said in a statement announcing the campaign.
"New York City has long been a leader in the fight for LGBTQ equality, and these ads are further evidence of the city's unwavering support of our diverse communities. While other cities and states are legislating intolerance and taking away individuals' right to use bathrooms consistent with their gender identity, we are proudly standing with our transgender and gender non-conforming New Yorkers."
The Daily Caller reported on Monday that a spokesman for the city said "NYC is spending $265,000 on the ad campaign."
Reuters noted that the mayor has been one of President Obama's strongest allies when it comes to the bathroom debate, and in March signed an executive order allowing people to go into whichever bathroom they want "in any city-owned building without being asked for identification by employees."
De Blasio's statement adds that the ad campaign kicks off LGBT pride month, and says that it is in response to "recent national rhetoric threatening trans peoples' access to public spaces."
The ad campaign follows Obama's directive to public schools in May, demanding they allow students to go into the bathrooms of the gender they identify with on any given day, instead of facilities that match their birth sex. Obama further threatened to cut off federal funding from schools that do not comply.
At least 11 states have filed a lawsuit against the Obama administration over the directive, however, with a joint statement by state officials warning that such a move would turn educational settings across the U.S. "into laboratories for a massive social experiment, flouting the democratic process, and running roughshod over common-sense policies protecting children and basic privacy rights."
Jeff Landry, the attorney general for Louisiana, vowed that he would "not allow Washington to wreak further havoc on our schools," while Ken Paxton, the Texas attorney general, accused the president of trying to "bully Texas schools into allowing men to have open access to girls in bathrooms."
Influential pastors, including Robert Jeffress of First Baptist Church in Dallas, have also accused the Obama administration of exploiting transgender people.
"Gender identity confusion is an emotional disorder, that should be treated professionally, and compassionately. Gender identity confusion should not be exploited by social activists like those in the Obama administration who want to deny the God-given distinction between the sexes. This is a rebellion against God's plan," Jeffress said in a sermon in May, exploring the biblical implications of the ongoing debate.