Obama and Europe Are Failing to Help Christians Being Massacred by ISIS, Claim John McCain and Tony Perkins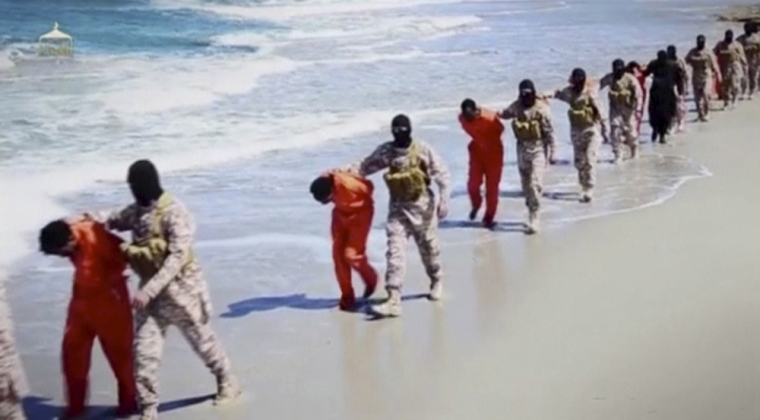 Sen. John McCain, R-Ariz., and Tony Perkins, president of the Family Research Council, have said that President Barack Obama and his European allies are failing to stop the massacre of Christians and other minorities throughout the Middle East and North Africa at the hands of terror group ISIS.
"Terrorist organizations such as the Islamic State of Iraq and Syria are destroying some of the oldest and most sacred Christian communities and relics in the world on the very lands where Christianity was born and first took root," McCain and Perkins said in an op-ed for Fox News.
"They are committing brutal atrocities against Christian communities in Syria and Iraq, persecuting religious minorities and destroying entire towns and local economies. Christians are fleeing their homes in increasing numbers, creating an exploding refugee crisis that will have grave ramifications on the stability and security of the entire region."
They argue that the U.S. and Europe have done little to end ISIS' reign of terror, and accused the Obama administration of refusing to defend religious freedom and of ignoring the "devastating cost" to religious communities.
"Specifically, we believe the Obama administration should integrate the protection of religious freedom into its overall response to growing terrorist threats and development efforts around the world. Doing so would help to eliminate the underlying causes of violent extremism, promote increased international economic stability, and foster greater respect for human rights," they add.
McCain and Perkins go on to suggest that Obama can build alliances with local and regional leaders who oppose radical ideology and support pluralism and tolerance. They add that the Obama administration also needs to oppose terrorist propaganda about religious minorities, and develop programs specifically aimed at promoting tolerance and empowering minorities.
"Only by reaffirming the importance of religious freedom and working closely with communities and their governments will we be able to strip away sympathy and support for ISIS and other extremist groups that is bred from deeper political, economic, and social grievances," they claim.
The U.S. and a broad team of international allies have so far been responding to ISIS by hitting terror targets with airstrikes across Iraq and Syria. They have also helped arm and train local forces fighting the Islamic extremists, but have not sent in ground troops to engage in combat.
Several Christian leaders from the region have spoken out about the brutalities faith communities have faced at the hands of ISIS, which has included the beheading of children who refuse to convert to Islam.
"It is happening now in our midst and the persecution of Christians is like we'd never expect would happen," Rev. Canon Andrew White, known as the 'Vicar of Baghdad,' told an audience at the Episcopal Cathedral Church of St. Mark in Salt Lake City earlier this week. "All I know is we are not (ceasing) to love Jesus. We are still serving him."
Obama insisted back in May that the U.S. is not losing the war against the terror group, despite losses, such as ISIS capturing the Iraqi city of Ramadi.
"I don't think we're losing," Obama told The Atlantic in an interview.
"There's no doubt there was a tactical setback, although Ramadi had been vulnerable for a very long time, primarily because these are not Iraqi security forces that we have trained or reinforced. They have been there essentially for a year without sufficient reinforcements, and the number of ISIL [ISIS] that have come into the city now are relatively small compared to what happened in [the Iraqi city of] Mosul."
McCain, who is chairman of the Senate Armed Services Committee, has been highly critical of Obama's performance in the fight against terror in Iraq and Syria, and called the fall of Ramadi "one of the most disgraceful episodes in American history."
"This is a failure of a policy, which I think is not enough of anything," he said at the time.