Obama Beats Nuns in Birth Control Mandate Battle; Fight Not Over, Little Sisters Say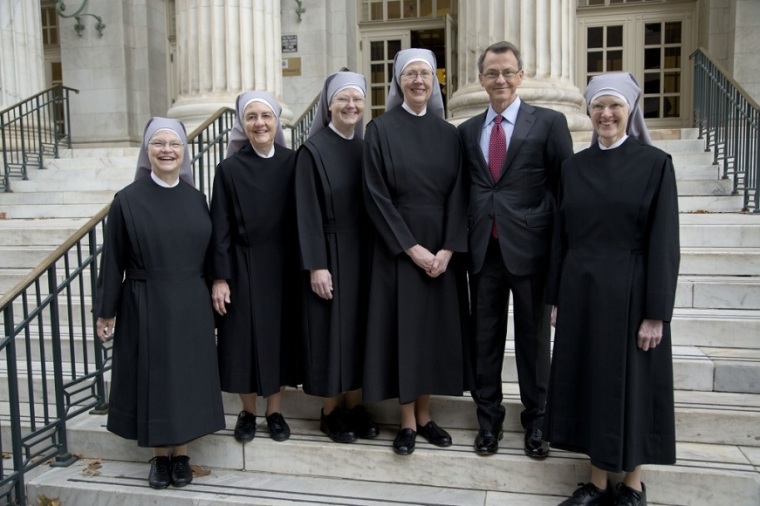 An appeals court has ruled against a Catholic order of nuns in their lawsuit against the Obama administration's birth control mandate.
The Tenth Circuit Court of Appeals ruled Tuesday against the Little Sisters of the Poor, concluding that having to fill out a form requesting that an another party provide insurance for contraceptives does not violate the order's religious liberty.
"Although we recognize and respect the sincerity of Plaintiffs' beliefs and arguments, we conclude the accommodation scheme relieves Plaintiffs of their obligations under the Mandate and does not substantially burden their religious exercise under RFRA or infringe upon their First Amendment rights," read the Tenth Circuit's decision.
"Because we determine the [Affordable Care Act] and its implementing regulations do not substantially burden Plaintiffs' religious exercise or violate the Plaintiffs' First Amendment rights, Plaintiffs have not established a likelihood of success on the merits or a likely threat of irreparable harm as required for a preliminary injunction."
In September 2013, the Little Sisters of the Poor filed a lawsuit against the Department of Health and Human Services over its controversial "preventive services" mandate.
Although the mandate exempts churches automatically under the "religious employers" category, the Little Sisters did not receive an automatic exemption.
In January, Supreme Court Justice Sonia Sotomayor granted the Little Sisters a temporary injunction protecting them from the demands of the mandate as their case continued.
The Little Sisters were represented by the Washington, D.C.-based Becket Fund for Religious Liberty, a legal firm that has overseen dozens of lawsuits against the HHS mandate.
Last December, the Tenth Circuit heard oral arguments in the Little Sisters' lawsuit, with Becket Fund legal counsel Daniel Blomberg telling The Christian Post in an earlier interview that the judges seemed critical of the government's case.
"They pushed the government to admit that a whole lot turned on the actions that the government was trying to force the Little Sisters to take," said Blomberg.
"The court also asked several questions about why the government was willing to exempt Catholic Bishops but not willing to exempt Catholic nuns, like the Little Sisters of the Poor."
Regarding Tuesday's decision, Becket Fund attorney Mark Rienzi released a statement expressing disappointment with the decision.
"After losing repeatedly at the Supreme Court, the government continues its unrelenting pursuit of the Little Sisters of the Poor," said Rienzi.
"Untold millions of people have managed to get contraceptives without involving nuns, and there is no reason the government cannot run its programs without hijacking the Little Sisters and their health plan."
Blomberg added that the Little Sisters will appeal the decision.
"We will keep on fighting for the Little Sisters, even if that means having to go all the way to the Supreme Court," Blomberg said.