Obama Doesn't Identify 147 Victims in Kenya Massacre as 'Christians' or Jihadi Group as 'Islamic'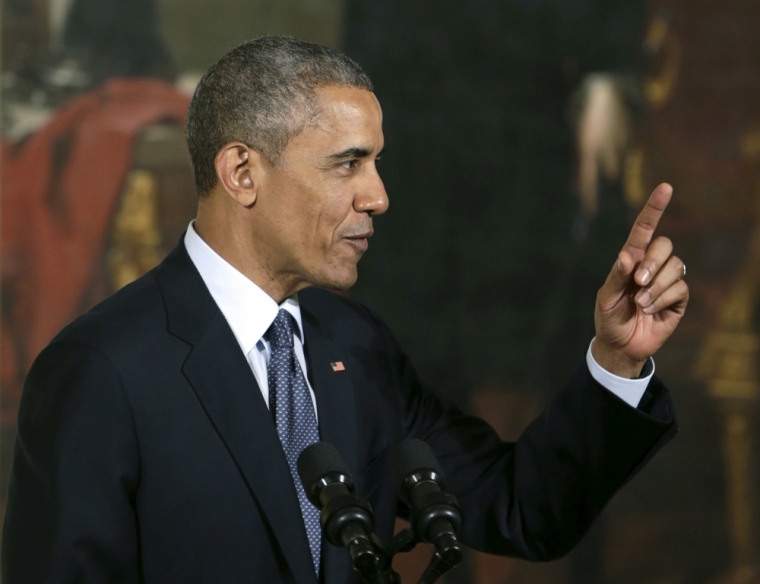 In the wake of last week's Al-Shabaab massacre of nearly 150 Christians at a Kenyan university, President Barack Obama issued a statement in response to the attack that failed to identify the victims as Christians targeted for their faith and also failed to label the extremist group as having Islamic motivations.
Last Thursday, Al Shabaab militants raided the campus of Garissa University College where they reportedly separated Muslims from the non-Muslims and killed approximately 147 Christians, while injuring 79.
On Friday, Obama issued a written statement condemning the attacks, which stated that "innocent men and women were brazenly and brutally massacred."
"Michelle and I join the American people in expressing our horror and sadness at the reports coming out of Garissa, Kenya. Words cannot adequately condemn the terrorist atrocities that took place at Garissa University College, where innocent men and women were brazenly and brutally massacred," The president stated. "We join the world in mourning them, many of whom were students pursuing an education in the pursuit of a better life for themselves and their loved ones."
Obama's statement went on to explain that as the people of Kenya grieve over the attack, the United States will "stand hand-in-hand" with the people of Kenya against the "scourge of terrorism."
Just like Obama labeled the 21 Coptic Christians in Libya who were beheaded by ISIS in February as "Egyptian citizens," Obama's statement on Friday neglected to mention the glaring fact that the victims were killed solely because they were believers in Christ.
Daveed Gartenstein-Ross, a senior fellow at the Foundation for Defense of Democracies, told The Christian Post on Tuesday that Obama's refusal to label extremist groups and their martyred victims by religious affiliation is simply to avoid being accused of sectarianism.
"It's a pattern in terms of the administrations communications," Gartenstein-Ross explained. "Basically, it is a strategy of removing religion from rhetoric and it is not without merit … but at the same time it is contrary to the reality of the situation. The people in Garissa were killed because they were Christian. The Copts in Libya were killed because they were Christian. It's an excruciating rhetorical device. It is not one that I agree with, in terms of not acknowledging that they were killed because they were Christian, but at the same time it is not an indefensible choice."
Although Gartenstein-Ross is of the assumption that Obama's refusal to mention terror victims' Christian faith is part of a broader communications rhetoric, Nina Shea, the director for Hudson Institute's Center for Religious Freedom, told CP that the Obama administration doesn't always omit religious affiliation when discussing the victims of attacks and hinted that there might be some hypocrisy to Obama's omittance of victims' Christian faith.
"In an attack in Syria over the past weekend, the administration had no problem expressing condolences for the Alawites and Ismailis who were murdered," Shea said. "This is in stark contrast to President Obama and the State Department's failure to mention that Christians were hunted down and executed in Kenya during the same period. This is a typical pattern for the administration. It could be that the administration has been told by its Muslim advisers that Muslims would be offended by criticism of the violently bigoted ideology of Al-Shabaab, an Islamist extremist group."
Family Research Council President Tony Perkins noted Obama's comments about "less than loving" Christians at Tuesday morning's Easter Prayer Breakfast.
"When it comes to persecuted Christians, not only do we not have action, we rarely get words. As we saw this morning at the White House Easter Prayer Breakfast, it seems the President and his administration only bring up Christians when they want to bash them," Perkins said.
Continuing with his pattern of refusing to label extremists groups as Islamic, Obama once again did not mention the fact that Al-Shabaab, an Al-Qaeda offshoot, is inspired to carry out its deadly attacks because of its extreme Islamic doctrine's call for jihad.
Kyle Shideler, the director of Center for Security Policy's threat information office, told CP that Obama's inability to identify deadly extremist groups like Al-Shabaab, ISIS and Boko Haram as having Islamic intentions could be an indication that the president does not have a strategy to defeat such Islamic groups.
"They way it helps [Al-Shabaab] is if we don't have a clear understanding of the enemy's doctrine, it becomes very difficult to develop strategies to defeat it. When the president indicates that he does not understand why it is that people that attack American [interests] do the things that they do, it is indicative that the administration does not have a strategy which can succeed," Shideler said. "While it doesn't bolster or weaken Al-Shabaab one way or the other, it weakens the United States and its ability to address threats when we don't speak about them honestly and clearly."
Although Gartenstein-Ross said he understands why the administration does not like to label extremist groups as Islamic when issuing public statements, he said the administration should at least be able to recognize those group's Islamic intentions when trying to create useful analysis for how to defeat those groups.
"I think it is more problematic when the avoidance is actually reflective of systemic thinking," Gartenstein-Ross said. "It is not about recognizing that they are Muslim but I think that some of the dumbing down of how we understand religion at an analytic level [limits] our ability to look at more innovative ways to defuse these organizations and can prevent us from understanding these groups through their own eyes, which is always an important thing when you are trying to counter an enemy."