Obama Goes to Church; Likened to John the Baptist
Holding hands and smiling despite the chilly weather, President Barack Obama, his wife, Michelle, and daughters Malia and Sasha, took a walk across the street from the White House to St. John's Episcopal Church Sunday morning to attend the worship service.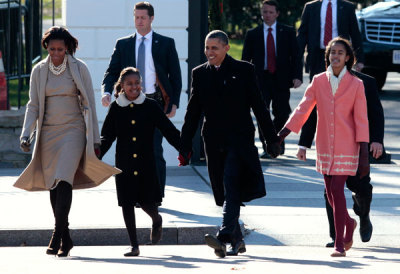 With the first family sitting on a pew, the Rev. Dr. Luis Leon spoke about John the Baptist and discussed Obama in his sermon, according to pool reports.
The pastor told the congregation that the expectations Americans had from Obama could be compared with illusions people had about John the Baptist at the time of Jesus. The religious leaders of the time had great expectations from John the Baptist but he told them he was neither the Messiah nor the prophet, but a voice calling in the wilderness, Leon told the congregation. Even Americans thought Obama would bring an immediate change, the pastor added.
"People have a tendency to create idols," Leon said, according to ABC News. "Society must wait without idols."
According to Gallup data, Obama's approval rating in the period of Nov. 28 to Dec. 4 was as low as 40 percent. The president's 43 percent average job approval rating last month ranks as one of the lowest for an elected president in November of his third year in office.
After the sermon, the congregation had a good laugh when a young boy suddenly ran to the front and took a good look at the first family, according to The Associated Press.
The Obamas participated in Holy Communion before walking back to the White House.
All presidents since James Madison have attended at least one service at St. John's Church, founded in 1815.
In the evening, Obama, his family and mother-in-law Marian Robinson celebrated Christmas with musical stars including Justin Bieber, Cee Lo Green, Jennifer Hudson, Victoria Justice and the Band Perry.
Obama Likened to John the Baptist
While he was criticized for not explicitly thanking God during his Thanksgiving address last month, Obama talked about Jesus at the 30th annual "Christmas in Washington" concert to benefit the Children's National Medical Center on Sunday evening.
Obama said the story of Jesus had changed the world by teaching basic values such as love, compassion, forgiveness and faith. "Those are values that are shared by all faiths," he was quoted as saying. "So tonight let us all rededicate ourselves to each other, and in that spirit, from my family to yours: Happy holidays, Merry Christmas, God bless you all, and God bless the United States of America."