Obama: North Carolina Transgender Bathroom Law 'Wrong,' Prince's 'Purple Rain' Played Before UK Bilateral Meetings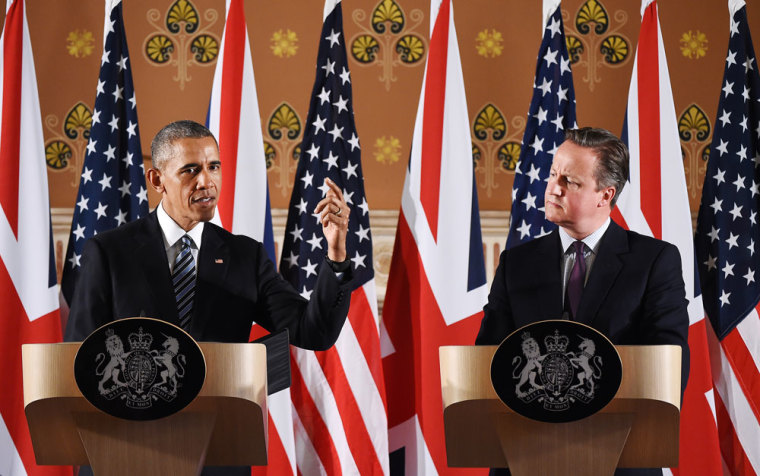 At a joint press conference with U.K. Prime Minister David Cameron in London, President Obama said the laws in North Carolina concerning use of bathrooms as per biological sex and in Mississippi that protects opponents of gay marriage from being punished for their religious beliefs, should be "overturned." He also said the Syrian conflict can be solved only with political negotiations, and that he listened to Prince's "Purple Rain" and "Delirious" before his bilateral meetings.
"I want everybody here in the United Kingdom to know that the people of North Carolina and Mississippi are wonderful people," Obama said at the press conference, after a reporter asked him about the laws. "They are hospitable people. They are beautiful states, and you are welcome, and you should come and enjoy yourselves, and I think you'll be treated with extraordinary hospitality."
The U.K. recently issued a travel advisory, saying, "The U.S. is an extremely diverse society and attitudes towards LGBT people differ hugely across the country. LGBT travelers may be affected by legislation passed recently in the states of North Carolina and Mississippi."
The North Carolina law says that people must use bathrooms according to their biological sex, while the Mississippi legislation provides protection to religious organizations and individuals being forced to act against their conscience in matters related to same-sex couples.
President Obama, who is on a six-day trip overseas, added that he thinks "that the laws that have been passed there are wrong and should be overturned, and they're in response to politics in part, in part some strong emotions that are generated by people – some of whom are good people, but I just disagree with them when it comes to respecting the equal rights of all people regardless of sexual orientation, whether transgender or gay or lesbian."
He said he respects their different viewpoints, but "I think it's very important for us not to send signals that anybody's treated differently."
He continued, "And I think it's fair to say that we're not unique among countries where particularly under a federal system in which power is dispersed that there are going to be some localities or local officials that put forward laws that aren't necessarily reflective of a national consensus, but if you guys come to North Carolina or Mississippi, everybody'll be treated well."
Obama also talked about Syria, praising the outcome of a ceasefire between President Bashar Assad and opposition forces there.
"The cessation of hostilities actually held longer than I expected. For seven weeks we've seen a significant reduction of violence in that country," he said, adding that he would continue to urge Russian President Vladimir Putin, who supports the Syrian regime, to help in the negotiations.
"Keep in mind that I have always been skeptical about Mr. Putin's actions and motives inside of Syria," Obama explained. "He is, along with Iran, the pre-eminent backer of a murderous regime that I don't believe can regain legitimacy in his country, because he has murdered a lot of people," the president said.
"We have looked at all options. None of them are great. We are going to play this option out … We are not going to solve the overall problem unless we can get this political track moving… We cannot end the crisis in Syria without political negotiations and without getting all the parties around the table to craft a transition plan. By necessity, that means there are going to be some people on one side of the table who I deeply disagree with and whose actions I deeply abhor."
Obama and Cameron also said they are committed to fight the Islamic State terror group, also known as ISIS or ISIL, which is now also active in Libya. But Obama said there was no plan to deploy ground troops in Libya and that the two allies would continue to strengthen government forces in that country.
Earlier during the joint press conference, Obama warned that if Britain chooses to sever its ties with the European Union, that could adversely affect the global economy and the fight against terrorism. He clarified, though, that he was not for interfering in the U.K.'s internal politics.
Obama also said, jokingly, that he "warmed up" for bilateral meetings in the U.K. by playing Prince's "Purple Rain" and "Delirious" on Friday morning, explaining that the U.S. Ambassador to the U.K., Matthew Barzun, has a record player.
Music icon Prince died Thursday. Obama called his death a "remarkable loss."
"I love Prince because he put out great music and he was a great performer. I didn't know him well, he came to perform at the White House last year and he was extraordinary, and creative, and original, and full of energy," he said.