Obama Ricin Letter: New Poisoned Letter Addressed to President Intercepted
Preliminary Tests by the FBI Indicate the Letter Sent to the President Did Contain Ricin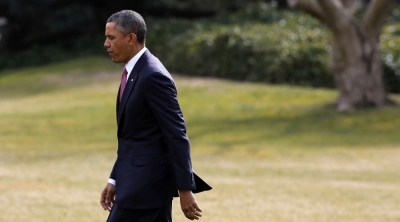 A ricin-tainted letter addressed to President Barack Obama has been intercepted at a screening facility, according to reports on Wednesday.
On Tuesday another letter poisoned with ricin was intercepted after being sent to Sen. Roger Wicker (R-Miss.), and now just a day later it has been reported that two other letters have been found with strong "similarities" to that first letter. One of new letters was addressed to the president.
The FBI reported just after noon Wednesday that the letter sent to President Obama did test positive for ricin in a preliminary analysis. That FBI statement also clarified that at the moment there is nothing to suggest the letters have any connection to the Boston Marathon bombings on Monday.
Earlier on Wednesday morning, Chad Pergram of Fox News tweeted that a letter sent to President Obama, from "the same sender" of the Wicker letter, had been intercepted. He posted to social media site, Twitter at 10.34 a.m. ET: "Fox confirms that in addition to Wicker letter, another intercepted letter was sent to President Obama."
Seven minutes later he posted another tweet: "Letter sent to Obama from same sender in MS that also sent letter to Sen. Roger Wicker (R-MS)."
It has been reported that the Obama letter was intercepted at a screening facility away from the White House and that the president was never put in immediate danger.
As news of that Obama letter broke, ABC then reported that another letter had been found on Wednesday. Terry Moran posted: "BREAKING: @ABC has learned a SECOND letter sent to the US Senate has tested positive for the poison ricin."
Sen. Claire McCaskill (D-Mo.) had confirmed on Tuesday that the first Wicker letter was caught in "an off-site screening facility for mail."
"The system worked the way it was supposed to," she added.
Then on Wednesday, McCaskill also revealed that authorities already had a suspect in mind, and that it was someone who "writes a lot of letters to members."