Obama State of the Union 2015 Text Transcript and Full Video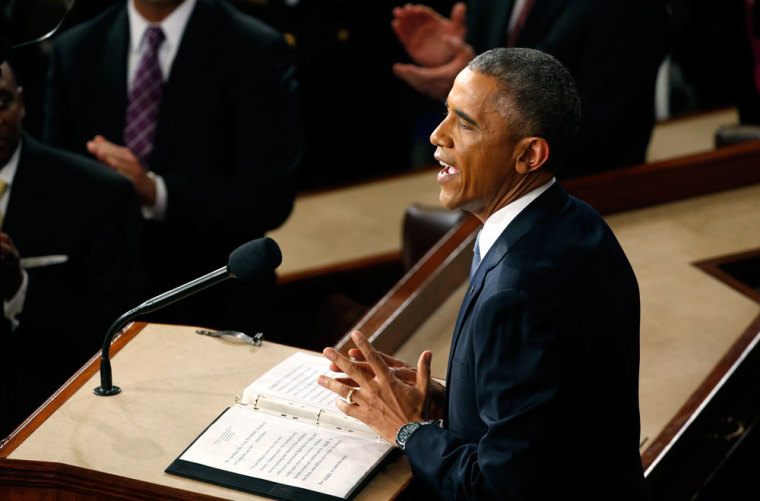 In West Africa, our troops, our scientists, our doctors, our nurses and healthcare workers are rolling back Ebola — saving countless lives and stopping the spread of disease. I couldn't be prouder of them, and I thank this Congress for your bipartisan support of their efforts. But the job is not yet done — and the world needs to use this lesson to build a more effective global effort to prevent the spread of future pandemics, invest in smart development, and eradicate extreme poverty.
In the Asia Pacific, we are modernizing alliances while making sure that other nations play by the rules — in how they trade, how they resolve maritime disputes, and how they participate in meeting common international challenges like nonproliferation and disaster relief. And no challenge — no challenge — poses a greater threat to future generations than climate change.
2014 was the planet's warmest year on record. Now, one year doesn't make a trend, but this does — 14 of the 15 warmest years on record have all fallen in the first 15 years of this century.
I've heard some folks try to dodge the evidence by saying they're not scientists; that we don't have enough information to act. Well, I'm not a scientist, either. But you know what — I know a lot of really good scientists at NASA, and NOAA, and at our major universities. The best scientists in the world are all telling us that our activities are changing the climate, and if we do not act forcefully, we'll continue to see rising oceans, longer, hotter heat waves, dangerous droughts and floods, and massive disruptions that can trigger greater migration, conflict, and hunger around the globe. The Pentagon says that climate change poses immediate risks to our national security. We should act like it.
That's why, over the past six years, we've done more than ever before to combat climate change, from the way we produce energy, to the way we use it. That's why we've set aside more public lands and waters than any administration in history. And that's why I will not let this Congress endanger the health of our children by turning back the clock on our efforts. I am determined to make sure American leadership drives international action. In Beijing, we made an historic announcement — the United States will double the pace at which we cut carbon pollution, and China committed, for the first time, to limiting their emissions. And because the world's two largest economies came together, other nations are now stepping up, and offering hope that, this year, the world will finally reach an agreement to protect the one planet we've got.
There's one last pillar to our leadership — and that's the example of our values.
As Americans, we respect human dignity, even when we're threatened, which is why I've prohibited torture, and worked to make sure our use of new technology like drones is properly constrained. It's why we speak out against the deplorable anti-Semitism that has resurfaced in certain parts of the world. It's why we continue to reject offensive stereotypes of Muslims — the vast majority of whom share our commitment to peace. That's why we defend free speech, and advocate for political prisoners, and condemn the persecution of women, or religious minorities, or people who are lesbian, gay, bisexual, or transgender. We do these things not only because they're right, but because they make us safer.
As Americans, we have a profound commitment to justice — so it makes no sense to spend three million dollars per prisoner to keep open a prison that the world condemns and terrorists use to recruit. Since I've been President, we've worked responsibly to cut the population of GTMO in half. Now it's time to finish the job. And I will not relent in my determination to shut it down. It's not who we are.
As Americans, we cherish our civil liberties — and we need to uphold that commitment if we want maximum cooperation from other countries and industry in our fight against terrorist networks. So while some have moved on from the debates over our surveillance programs, I haven't. As promised, our intelligence agencies have worked hard, with the recommendations of privacy advocates, to increase transparency and build more safeguards against potential abuse. And next month, we'll issue a report on how we're keeping our promise to keep our country safe while strengthening privacy.
Looking to the future instead of the past. Making sure we match our power with diplomacy, and use force wisely. Building coalitions to meet new challenges and opportunities. Leading — always — with the example of our values. That's what makes us exceptional. That's what keeps us strong. And that's why we must keep striving to hold ourselves to the highest of standards — our own.
You know, just over a decade ago, I gave a speech in Boston where I said there wasn't a liberal America, or a conservative America; a black America or a white America — but a United States of America. I said this because I had seen it in my own life, in a nation that gave someone like me a chance; because I grew up in Hawaii, a melting pot of races and customs; because I made Illinois my home — a state of small towns, rich farmland, and one of the world's great cities; a microcosm of the country where Democrats and Republicans and Independents, good people of every ethnicity and every faith, share certain bedrock values.
Over the past six years, the pundits have pointed out more than once that my presidency hasn't delivered on this vision. How ironic, they say, that our politics seems more divided than ever. It's held up as proof not just of my own flaws — of which there are many — but also as proof that the vision itself is misguided, and naïve, and that there are too many people in this town who actually benefit from partisanship and gridlock for us to ever do anything about it.
I know how tempting such cynicism may be. But I still think the cynics are wrong.
I still believe that we are one people. I still believe that together, we can do great things, even when the odds are long. I believe this because over and over in my six years in office, I have seen America at its best. I've seen the hopeful faces of young graduates from New York to California; and our newest officers at West Point, Annapolis, Colorado Springs, and New London. I've mourned with grieving families in Tucson and Newtown; in Boston, West, Texas, and West Virginia. I've watched Americans beat back adversity from the Gulf Coast to the Great Plains; from Midwest assembly lines to the Mid-Atlantic seaboard. I've seen something like gay marriage go from a wedge issue used to drive us apart to a story of freedom across our country, a civil right now legal in states that seven in ten Americans call home.
So I know the good, and optimistic, and big-hearted generosity of the American people who, every day, live the idea that we are our brother's keeper, and our sister's keeper. And I know they expect those of us who serve here to set a better example.
So the question for those of us here tonight is how we, all of us, can better reflect America's hopes. I've served in Congress with many of you. I know many of you well. There are a lot of good people here, on both sides of the aisle. And many of you have told me that this isn't what you signed up for — arguing past each other on cable shows, the constant fundraising, always looking over your shoulder at how the base will react to every decision.
Imagine if we broke out of these tired old patterns. Imagine if we did something different.
Understand — a better politics isn't one where Democrats abandon their agenda or Republicans simply embrace mine.
A better politics is one where we appeal to each other's basic decency instead of our basest fears.
A better politics is one where we debate without demonizing each other; where we talk issues, and values, and principles, and facts, rather than "gotcha" moments, or trivial gaffes, or fake controversies that have nothing to do with people's daily lives.
A better politics is one where we spend less time drowning in dark money for ads that pull us into the gutter, and spend more time lifting young people up, with a sense of purpose and possibility, and asking them to join in the great mission of building America.