Obama Vows to Defend Human Rights in Talks With Cuba's Raul Castro as He Prays at National Shrine of Our Lady of Charity in Miami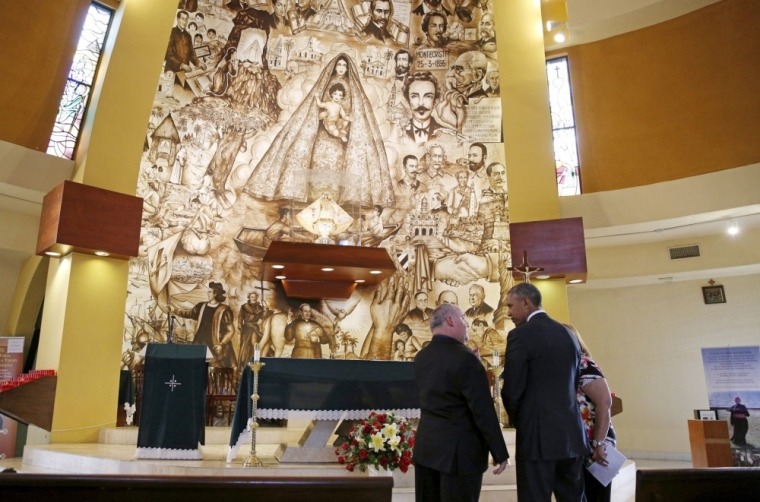 President Barack Obama has promised a Cuban priest that he will defend human rights despite restoring diplomatic relation with Cuba late last year. Obama reportedly spoke with the priest at the National Shrine of Our Lady of Charity in Miami, where the president stopped to pray and light a candle to Cuba's patroness, the Virgin Mary.
"The topic of freedom for Cuba and human rights will always be on the negotiating table with [Cuban President] Raul Castro," Obama told Father Juan Rumin Dominguez in an unexpected visit last week, according to Catholic News Service.
Dominguez was able to speak with Obama in detail about the plight of Cubans in exile, many who have come to the United States seeking refuge.
"For me it was an honor and a sign that we live in a free country," Dominguez said. "To be able to tell President Obama to his face about the feelings of thousands of people who visit the shrine every day."
The priest, his secretary, and the president prayed together, after which Obama "lit a candle in front of the Virgin," Dominguez said, and stood for a minute in silent prayer.
In April, Obama and Castro met to discuss thawing political and economic relations, which was the first meeting between U.S. and Cuban leaders in more than half a century.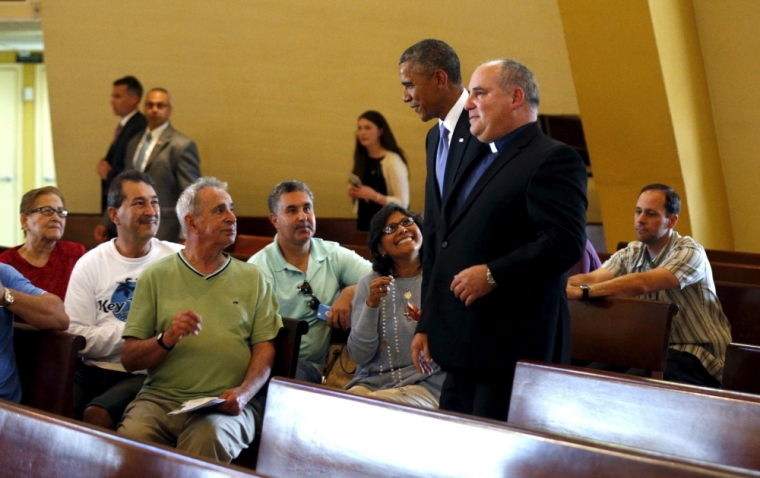 News of the renewal of diplomatic ties was met with mixed reactions in the U.S., with several Christians such as the Rev. Samuel Rodriguez, president of the National Hispanic Christian Leadership Conference, warning that the development should not serve as an endorsement of an oppressive regime.
"As a result of Castro's totalitarian rule, millions live in poverty, thousands lie in prisons, and many have lost their lives. In addition, the God-given rights of Cuban citizens are held hostage to governmental persecution," Rodriguez said back in December 2014.
The National Shrine of Our Lady of Charity in Miami is recognized as a first stop for thousands of immigrants from Central and South America who continue making their way to South Florida.
Dominguez told Obama of the tens of thousands of people from Cuba who come to America seeking refuge and who stop at the National Shrine.
"They felt sad, forsaken, they missed their homeland. They had come searching for liberty and at that moment, the image of the Virgin was brought in, a sign that they were not alone."
Dominguez also showed Obama a mural depicting Cuban rafters.
"There I took the opportunity to explain to him the tragedy of the Florida Straits," Dominguez said. "I told him: Look, that image represents Cubans who, since Communism came to Cuba, have been coming and losing their lives in the Florida Straits, looking for liberty. I hope all that effort won't be lost, and that this process (of reconciliation between the two countries) will conclude with true freedom for Cuba."
Obama said "Father, don't worry, that is our goal, to achieve liberty in Cuba," according to the priest.