Obama Wants You to Talk About 'Obamacare' Over Christmas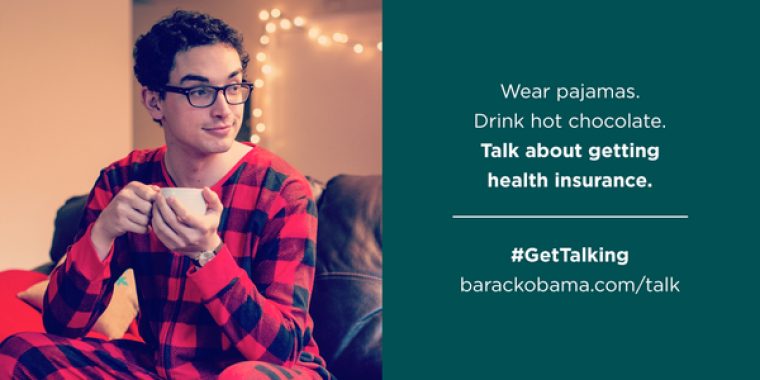 Barack Obama's Twitter feed sent a message Tuesday encouraging supporters to talk about signing up for "Obamacare" over Christmas. The post features a young adult wearing onesie pajamas and drinking hot chocolate.
"How do you plan to spend the cold days of December?" @BarackObama tweeted.
"Wear pajamas. Drink hot chocolate. Talk about getting health insurance," the Twitter photo says.
The message also has the hashtag "#GetTalking" and the website, barackobama.com/talk.
The deadline to sign up for health insurance on the Affordable Care Act, or "Obamacare," health insurance exchanges in order to be covered on Jan. 1 is Monday, Dec. 23.
@BarackObama is the twitter feed for Organizing for Action, a political advocacy organization that was formed from Obama's 2012 election campaign. There is also an official governmental twitter feed for the president, @WhiteHouse.
One of the links in the tweet is to the same video that OFA promoted just before Thanksgiving when Obama encouraged supporters to talk about Obamacare over the Thanksgiving holiday.
The video shows a young adult, the same actor wearing the adult onesie in the photo, talking to his parents before going to their house for the holiday.
"We have something really important to talk to you about," the dad says.
The video has fun with the idea of the son thinking of what his parents might have to tell him: Did they join a cult? Do they know what I did in Vegas? Did they join the circus? Matching tattoos?
When he arrives at his parents house and they are enjoying their holiday meal, he finds out what they really want to talk to him about: "We know you don't have health insurance. It's time to get covered."
Conservative websites have been mocking the character they have dubbed "pajama boy" with their own Internet memes (see here and here).
In an article for the conservative publication National Review, Charles C.W. Cooke wrote: "And now, courtesy of Organizing for Action, we have 'Pajama Boy,' a metrosexual hipster in a plaid onesie who wants you to spend your precious Christmas days talking to him about the president's vision for health insurance."