Obama Warns Against Social Media, Says It Reinforces Biases in Prince Harry Interview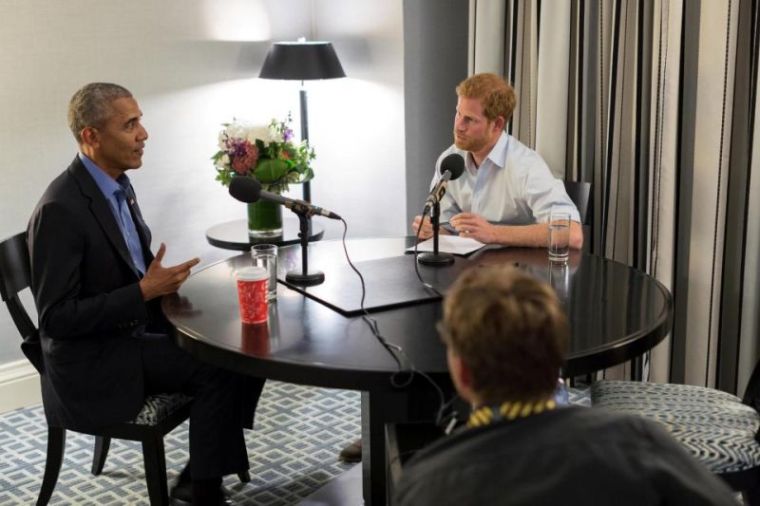 Former President Barack Obama told Britain's Prince Harry in an interview that the irresponsible use of social media could be dangerous, saying that it can allow some people to live in "different realities" and preserve their biases.
Obama told Harry in an interview on BBC Radio 4's Today program that social media can lead to people being exposed to material that only reinforces their own views and does not challenge them.
"One of the dangers of the internet is that people can have entirely different realities. They can be cocooned in information that reinforces their current biases," the former president said.
"The question has to do with how do we harness this technology in a way that allows a multiplicity of voices, allows a diversity of views, but doesn't lead to a Balkanization of society and allows ways of finding common ground."
Obama did not mention current President Donald Trump by name, though the latter has been widely criticized for his often controversial posts and pointed comments on Twitter.
Both Republicans and Democrats for instance slammed Trump's attack via Twitter on "Morning Joe" hosts Mika Brzezinski and Joe Scarborough back in June.
Trump explained on July 1 why his use of social media is different:
"My use of social media is not Presidential - it's MODERN DAY PRESIDENTIAL. Make America Great Again!" he stated at the time.
Obama told BBC that face-to-face contact could counteract extreme views that appear on social media.
"Social media is a really powerful tool for people of common interests to convene and get to know each other and connect," he said.
"But then it's important for them to get offline, meet in a pub, meet at a place of worship, meet in a neighborhood and get to know each other.
"Because the truth is that on the internet, everything is simplified and when you meet people face-to-face it turns out they're complicated." 
Obama and then-President elect Trump held cordial meetings back in November 2016 to discuss transition plans in the White House, with Obama also sending Trump four pieces of advice in a personal letter for his successor.
Relations have been strained ever since Trump accused Obama in March of wire tapping the Trump Tower in New York, which he called "McCarthyism" and a "New Low."
"How low has President Obama gone to tap my phones during the very sacred election process. This is Nixon/Watergage. Bad (or sick) guy!" Trump further tweeted.
Obama firmly denied the accusations.
"Neither President Obama nor any White House official ever ordered surveillance on any U.S. citizen. Any suggestion otherwise is simply false," said Kevin Lewis, a spokesman for the former president.