Obamacare to Add $6.2 Trillion to National Deficit; Obama Claimed It Wouldn't Add a Dime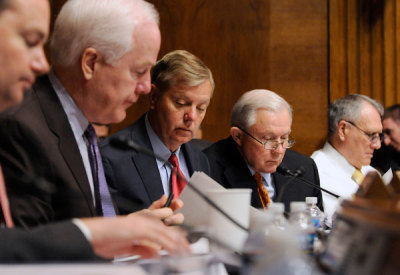 The Patient Protection and Affordable Care Act, passed three years ago with President Obama saying it would not add one dime to the federal deficit, is now projected to add $6.2 trillion to the deficit and inflict severe cuts to Medicare and Medicaid payments to hospitals and physicians.
When Obamacare passed in March 2010, many Americans believed they would soon receive the same lifetime healthcare benefits as every member of Congress, and without incurring additional costs for themselves, their families or their businesses. The truth, however, is the Government Accountability Office (GAO) anticipates the Obamacare entitlement program will place a heavy burden on the U.S. economy, which currently has a national debt of $16.7 trillion.
According to the American Enterprise Institute (AEI), a conservative think tank, patients and their physicians are going to feel the full impact of the costs associated with Obamacare, and not only by adding $6.2 trillion to the national debt, but in ways that are far more tangible to families, and especially senior citizens.
In his analysis of the GAO's report, Chris Conover, an adjunct scholar at the American Enterprise Institute, notes the current law already requires "Medicare to slash physician fees by 25 percent next January (under the Balanced Budget Amendment)." He adds that by 2030, Medicare payments to physicians will be 60 percent less than payments received from patients who have private health insurance plans.
Likewise, Conover shows payments to hospitals that provide services to Medicare and Medicaid patients will be paid 61 percent less for procedures than payments from private health insurers; and physicians eventually will be paid 74 percent less under Medicare than private insurance.
"First, cuts of that magnitude will create huge problems of access to care," Conover said in a statement to The Christian Post on Friday.
"The Medicare actuary projects that 40 percent of Part A providers will be operating in the red by the year 2050. No facility can operate in the red year after year after year. So many of these facilities will close entirely, meaning patients will have to travel longer and farther to get care. This will disproportionately hurt low-income patients for whom transportation barriers are an issue."
He continues, "For the facilities that stay open, quality clearly cannot be as high for a facility whose payment rates are 61 percent lower than for private pay patients. Just as Medicaid patients have already experienced, there will be much longer waiting times for care, visits will be much shorter and less informative.
According to Conover, the least-advantaged will feel the greatest impact by these changes in healthcare since they're the ones most in need of patient education regarding lifestyle choices. "Far more patients will get turned away entirely, meaning that it will increase the burden on safety net facilities whose emergency rooms will become even more overloaded as the private delivery system essentially shrinks."
"There also is likely to be cost-shifting back onto private patients as providers seek to offset their losses on public patients by raising their charges for paying patients. But this will merely expand the payment gap between private and public patients," he added.
Conover told CP it's important for Americans to understand that the bad news won't be limited to public patients. "Crowded emergency rooms are a problem for the entire community, both from the standpoint of costs and being able to access critical care when needed."
He also emphasized that contracts negotiated in the exchanges tend to be based on Medicare payment rates.
"As Medicare payments decline, some people in the exchanges in the least expensive plans may discover that they, too, are less desirable customers to some providers since their plans are limited to Medicare payment rates," Conover said.