Obama's Executive Order Will Authorize Work Permits for 5 Million Illegals; Immigration Plan Is 'Unconstitutional' Top Republicans Say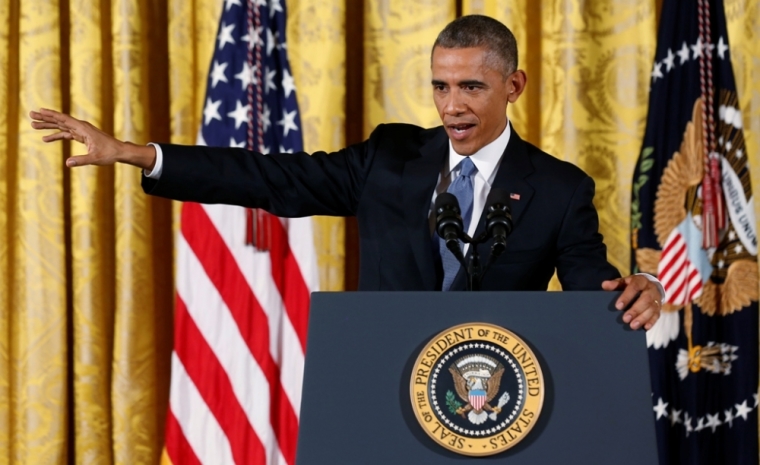 President Barack Obama is expected to sign an executive order on Friday authorizing work permits to 5 million illegal immigrants and top Republicans have slammed the decision as unconstitutional.
While details of the immigration plan have not yet been released, it is understood that the order will ultimately shield 5 million undocumented immigrants from deportation.
The announcement will be made Thursday evening at 8 p.m. EST during a prime-time television address and four major broadcast networks (ABC, NBC, FOX and CBS) confirmed they will not air it.
Obama will follow the immigration announcement with a pro-immigration rally in Las Vegas on Friday at Del Sol High School, which has a large population of non-English speaking students.
"Everybody agrees that our immigration system is broken. Unfortunately Washington has allowed the problem to fester for too long," Obama said in a Facebook video message. "And so what I'm going to be laying out is the things that I can do with my lawful authority as president, to make the system better even as I continue to work with Congress and encourage them to get a bipartisan, comprehensive bill that can solve the entire problem."
There's an estimated 11.2 million illegal immigrants in the U.S. The state of Nevada reportedly has the highest proportion of any U.S. state as 7.6 percent of its population are undocumented immigrants.
Republican House Speaker John Boehner previously warned Obama against using executive action to bypass Congress on immigration, saying "he's going to burn himself."
On Wednesday, Boehner's spokesman Michael Steel issued a statement condemning Obama's executive order.
"If 'Emperor Obama' ignores the American people and announces an amnesty plan that he himself has said over and over again exceeds his constitutional authority, he will cement his legacy of lawlessness and ruin the chances for congressional action on this issue — and many others," Steel said.
Texas Republican Sen. Ted Cruz, who is strongly opposed to Obama's position on immigration, blasted the order as "unconstitutional" in an op-ed via politico.com.
He also described the immigration plan as "lawless" and accused Obama of being "angry" at the nation.
Sen. Tom Coburn, R-Okla., warned of civil disobedience should Obama follow through with the executive order.
"The country's going to go nuts, because they're going to see it as a move outside the authority of the president, and it's going to be a very serious situation," Coburn said. "You're going to see — hopefully not — but you could see instances of anarchy. ... You could see violence."
Rep. Steve King, R-Iowa, who previously threatened impeachment over Obama's immigration plan, again expressed his concerns and accused the president of abusing his power.
"We had an opportunity to do some things in a bipartisan way, but the president has decided to throw gas on the fire," King said.
Senator Barbara Boxer, Democrat of California supports the President's actions and feels it will help the economy by keeping immigrant families together.
"If we don't act, the dire situation of undocumented immigrants will only get worse, families will continue to be torn apart, people will continue to live in the shadows," said Ms. Boxer on the floor of the Senate on Wednesday after the President's speech was announced. "I say to the president today, as I have said to him in writing, if you act, you will have my strong support, and you will have the support of so many people across the country."