Obama's Former 'Pastor in Chief' Joshua DuBois Testifies of President's 'Deep Faith'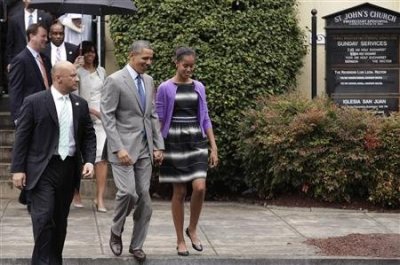 Joshua DuBois, the ordained Pentecostal minister who led the Office of Faith-Based and Neighborhood Partnerships under President Barack Obama, said in a recent interview that his former boss is "a deeply faithful president and didn't need a whole bunch of help cultivating that faith" during his four-year tenure at the White House.
DuBois, 30, resigned from his post in February and has since become a religion columnist at the Daily Beast and is set to teach faith-based courses at New York University this year. He told ABC News outside St. John's Episcopal Church in Washington, D.C., where the first family recently attended Easter service, that President Obama had a penchant for the Book of Job and other Old Testament writings in the Bible when it came to his daily devotionals.
"He spent a lot of time thinking about the Book of Job and Job overcoming trials," said DuBois, reflecting on the daily readings he would send to the president. "We also spent a lot of time in the prophets, particularly the prophet Isaiah. But [he] reflects on some theologians as well, like C.S. Lewis and Howard Thurman."
The former White House executive was the only ordained minister in the president's inner circle, according to ABC News, and that unique status eventually brought DuBois the title of "pastor in chief" and "Obama's man of God." He was previously an associate pastor at Calvary Praise and Worship Center, a small Pentecostal church in Cambridge, Mass.
DuBois shared with the news network that President Obama, whom he has called a born-again Christian, lives out his faith through his service to the country by "prioritizing the poor and vulnerable and making sure to spend time with his own family." He added that the president, when unable to attend church services, would call up faith leaders, such as Pastor Joel Hunter of Northland Church in Florida and Bishop T.D. Jakes of The Potter's House in Texas, for private prayer sessions.
Although President Obama has professed on numerous occasions to being a follower of Jesus Christ, such as at the recent National Prayer Breakfast where he spoke of "[placing] our faith in the nail-scarred hands of Jesus Christ," he has been criticized by conservative Christians as being hostile to religious freedom and even accused by some Americans of being a secret Muslim.
"People are going to believe any range of things about any leader of the country," DuBois told ABC News.
He added, "All the president can do is live out his Christian walk every single day. The detractors will do their detracting, but at the end of the day it's about his relationship with God and that relationship, from all that I can tell, is strong."
DuBois pointed to the president instituting in his first term an annual prayer breakfast to mark Easter, arguably the most important Christian holiday, as a sign of Obama's strong faith.
"The White House had marked other religious holidays for diverse communities before, but never a day specifically focused on the Resurrection, on what the story of Jesus, the death and resurrection of Jesus, meant for the president and for the world," he said.
DuBois was one of Obama's longest-serving aides and previously worked with the president when he was an Illinois senator as well as during his 2008 presidential campaign. He has previously explained how hearing Obama mention worshipping "an awesome God" during the 2004 Democratic convention inspired him to pursue work with the soon-to-be president.
In addition to writing for the Daily Beast and teaching in NYC this fall, DuBois also has in the works a book of daily biblical reflections for leaders. He reportedly is also creating an organization that will help address social issues through religious organizations.
During his time as the executive director of the Faith-Based and Neighborhood Partnerships, an office created in 2001 by former President George W. Bush, DuBois worked to get religious groups and nonprofits engaged with federal initiatives in addition to providing President Obama with spiritual support and guidance. Dubois' position was filled in March by Melissa Rogers, who previously chaired the president's Inaugural Advisory Council on Faith-Based and Neighborhood Partnerships.