Octomom and Singing Career; Another Failed Attempt to Pay Off Debt? (VIDEO)
"Octomom" has stated that she has plans to do a duet with singer Adam Barta, and may even release her own debut solo.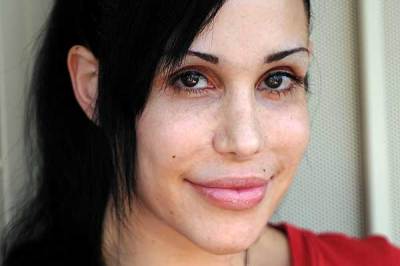 Nadya Suleman, the famous octuplet mom, who now has 14 children altogether from a single donor, has been desperate to make money in the past few months. After foreclosing on her house and declaring bankruptcy, Suleman felt she was forced to consider more drastic employment options in order to make money and care for her family.
Suleman, who originally said she would never resort to adult entertainment for money, changed her tune earlier this month when she agreed to make an adult film. The announcement came less than a month after the mother of 14 had agreed to pose nude for a magazine cover. Suleman defended her actions by saying that she would do "whatever it takes" in order to support her family.
Suleman has insisted that she only compromised on her original stance as she would never take part in an adult movie that involved touching with another person. Her adult movie only involves herself.
Going beyond her adult movie career it now appears Suleman is moving on to a music career instead.
"It was so much fun being a part of Adam Barta's new single," Suleman told the Huffington Post. "I was surprised when he asked me to do a duet with him, but I am looking forward to recording it with Adam. Who knows? Maybe I will be doing my own single soon, and we will call it OctoBeats."
Suleman's debt however, has been reported to be out of control. Suze Orman, an internationally acclaimed personal finance expert, admitted that Suleman's finances were something that perhaps only God could handle.
Even after filing for bankruptcy, Suleman still remained in the red and was unable to pay the money she owed her father or the private school where she has insisted on sending her children.
Suleman at present receives a welfare check from the state that is estimated to be worth about $2,000 a month.