Octomom and Stripping Scheme: Nadya Suleman Has Psychological Issues? (VIDEO)
While Nadya Suleman has frequently justified her behavior by stating that she is fighting for her family it would appear that her latest announcement to become a stripper is only one of many ploys to gain public attention.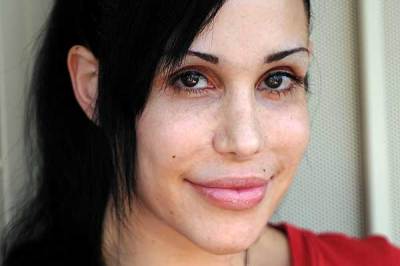 Nadya Suleman, the mother of 14 who infamously made headlines after being artificially inseminated with eight embryos - four times the recommended amount, recently completed her first adult film.
The Octomom, who is currently living off of a welfare check estimated to be worth about $2,000 a month, officially filed for bankruptcy last week. Money however, is not the only issue that appears to be facing the mother of eight.
In her most recent announcement, Suleman has stated that she will now take on a stripping gig in order to earn more money and promote her new adult video. Her decisions are a far step for a mother who only a year ago insisted that she would never resort to such extremes in order to support her family.
The question now is whether Suleman is really working to support her family, or simply doing anything to get the public's attention. In the past, Suleman has been diagnosed with a handful of psychological disorders, which include paranoia, depression, wild mood swings and post-traumatic stress syndrome, according to the Huffington Post.
Some critics argue that Suleman has failed to fully consider her family from day one. The mother chose to have another IVF even after she had already given birth to six children, which she was already unable to support, and who had special needs from birth. The octuplets were also born premature, putting them at an increased risk for autism and a handful of birth defects.
According to the popular Dr. Phil McGraw, Suleman suffers from "Pollyanna Disconnect," a mental state where an individual displays an inordinate amount of naivete when dealing with reality, rushing wholeheartedly and optimistically into situations without due consideration.