Ohio Priest Jumps From Skyscraper After He's Accused of Having Relationship With Minor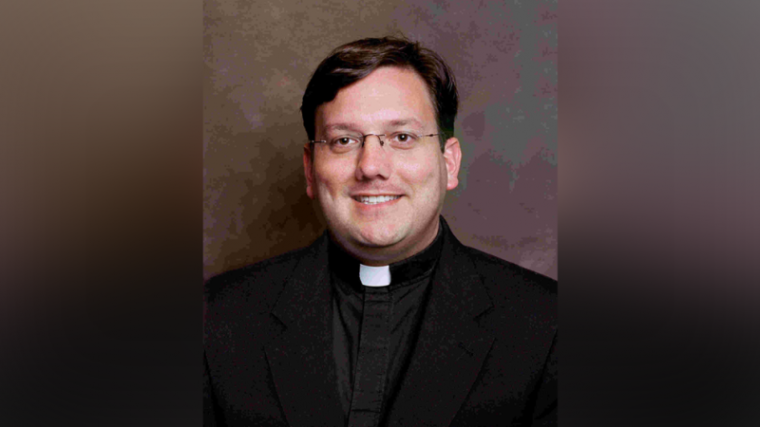 James Csaszar, a suspended Ohio priest who was under investigation for engaging in an inappropriate relationship with an underage boy, jumped from an 82-story hotel in Chicago Wednesday, leaving his colleagues in shock.
The 44-year-old priest who was reportedly well-liked led the Church of the Resurrection in New Albany, Ohio. Officials say he was under investigation for leading a double life prior to his death at the sleek Radisson Blu Aqua Hotel.
"It is with deep shock and sadness that we have learned of the death of Father James Csaszar, pastor of the Church of the Resurrection in New Albany, who took his own life yesterday in Chicago," Bishop of Columbus, the Most Rev. Frederick F. Campbell, confirmed in a statement Wednesday.
"On Nov. 7, Father Csaszar was placed on an administrative leave by the Diocese of Columbus after diocesan officials were made aware of excessive and questionable text and telephone communications with a minor and potential misuse of church funds while serving as pastor of St. Rose Parish, New Lexington," he explained.
"Following a diocesan review of the matter, the New Lexington Police were contacted and all information was turned over to them and the Ohio Bureau of Criminal Investigation for their review; an investigation was being conducted at the time of Father Csaszar's death," he added.
Csaszar had worked at the St. Rose Parish in New Lexington for 11 years prior to moving to New Albany. A 10TV report cited an email from the Chief of New Lexington Police to Special Agent Robert Davis of the Bureau of Criminal Investigation and Identification with the subject line: "inappropriate relationship between Priest and 16yom."
At the time of Father Csaszar's death no charges had yet been filed against him but the allegations were said to involve a child at the Lexington church. Ohio police told The Chicago Tribune that despite his death the investigation would continue.
The allegations against the priest, however, has come as stunning news to the people he served in both New Lexington and New Albany.
"You could always talk to him and felt comfortable speaking with him, and he was always there to listen to you no matter where he was on the street or what it was," New Lexington business owner Cheryl Dodson told the NBC 4 about the priest. "He was one of my favorites. Out of all the Catholic priests I've known and affiliated with, he was one of my favorites."
Parishioners in New Albany also started a prayerful petition for him after he was placed on leave last month.
"Evidenced, in part, by the attendance at Sunday Mass, Father Jim has been instrumental in growing Church of the Resurrection, in numbers, in spirituality, in community and in service," the petition said.
Members of the church held a prayer service for him on Wednesday night and Campbell said in his statement Thursday, urged further prayers for him.
"We are reminded throughout sacred scripture that God our Father is loving, merciful, compassionate and forgiving. We also know that in his years of priestly ministry Fr. Csaszar did many good things for the people that he served in his parish assignments. And so we ask that everyone pray for Father Csaszar, his family, friends, and parishioners during this most difficult time," he wrote.