Ohio pro-life group optimistic that heartbeat abortion ban law will survive legal challenge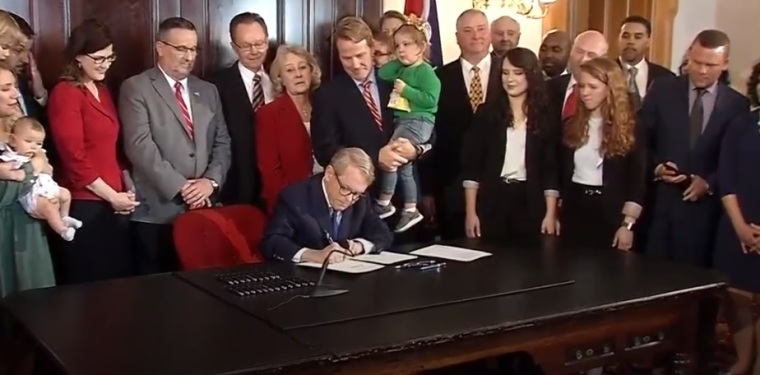 A spokesperson for a pro-life organization based in Ohio is confident that the state's newly signed law banning abortions when a fetal heartbeat is detected will survive a legal challenge.
Jamieson Gordon of Ohio Right to Life, whose group lobbied on behalf of the legislation, which effectively bans abortions after six weeks, explained to The Christian Post in an interview her reasons for the confidence.
"The ACLU has said that they will sue, but we are confident that our pro-life Attorney General Dave Yost will defend the law well," said Gordon.
"We believe that the Sixth US Circuit Court of Appeals may be the most conservative circuit in the country, and the heartbeat bill may have a better chance there."
Gordon also told CP that they viewed the new law as "the next incremental step to overturning Roe v. Wade," the controversial 1973 United States Supreme Court decision that legalized abortion nationwide.
Last week, Ohio Governor Mike DeWine signed Senate Bill 23, or the Ohio Human Rights and Heartbeat Protection Act, into law.
"The essential function of government is to protect the most vulnerable among us — those who do not have a voice," said DeWine just before he signed the bill.
"Government's role should be to protect life from the beginning to the end, to protect those who cannot protect themselves, such as the elderly, the unborn, those who are sick, those who have a disability, those who have a mental illness, or an addiction."
SB 23 passed 56-40 in the House and then 18-13 in the Senate last week. Local news reported protests from both sides of the abortion debate outside of the legislative chamber.
Former Ohio Governor and Republican presidential hopeful John Kasich vetoed similar legislation while in office, believing that such a law would not survive a costly legal battle.
Freda Levenson, legal director at the Ohio chapter of the American Civil Liberties Union, said in a statement released before the bill signing that the new law was "blatantly unconstitutional."
"SB 23 is one of the most aggressive, oppressive, and radical attacks against women ever seen in this state and this country," stated Levenson.
In addition to Ohio, other states that have recently passed similar legislation include Georgia, Iowa, Kentucky, Mississippi, and North Dakota.
Legal challenges to the laws in Iowa and North Dakota successfully blocked them from taking effect, while last month a federal judge blocked Kentucky's law via a temporary restraining order.
Other states, including Tennessee, are considering bans on abortions once a heartbeat is detected in an unborn baby.
Tennessee state Senator Mark Pody submitted a letter earlier this week to the state Senate clerk asking for Senate Bill 1236 to be brought before the Senate floor, according to the Nashville Tennessean.
"As someone who believes life begins at conception, I support the bill philosophically," stated Lt. Gov. Randy McNally regarding SB 1236, adding that he opposed it because he feared it would be the "losing side" of a lawsuit.
"Passing a constitutionally suspect bill now would give the courts an opportunity to erase the progress we have made."
Quena González, director of State and Local Affairs at the Family Research Council, told CP that he believed the rise in heartbeat bills was "a reflection of the polling showing that Americans are more and more pro-life."
"There are also more and more pro-life legislators; since the 'wave election' in 2010, when Republicans took a commanding lead in state legislatures, pro-life Republicans have maintained or grown their dominance in the state elections every cycle," said González.
"This year alone more than 125 pro-life bills have been introduced; states have enacted bills to defund Planned Parenthood and other abortion providers, prohibit dismemberment abortions, prohibit partial-birth abortion, and prohibit all abortions when Roe v. Wade falls."
González also told CP that it still remains to be seen if the heartbeat bill litigation "will ultimately make its way to the Supreme Court."