Three-time NCAA softball champs Oklahoma Sooners declare 'our life is in Christ'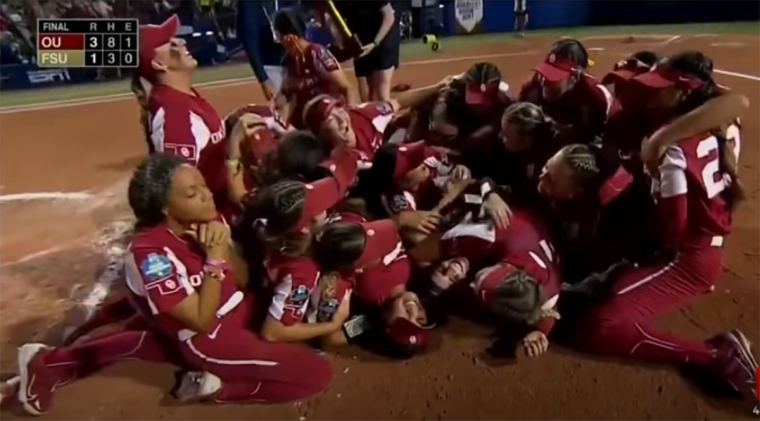 Fresh off yet another NCAA Women's College World Series (WCWS) championship, the Oklahoma Sooners' softball team continue to point to Jesus as the source of their success.
In a June 6 media briefing following their 3-1 victory over Florida State to seal their third straight WCWS title, Sooners' infielder Grace Lyons was quick to explain where true joy comes from.
Inspiring answer from the OU softball team about happiness versus joy.

So cool to see athletes use their platform to profess their faith. The Lord is at work.

"No matter the outcome, this isn't our home. We have an eternity of joy."

Grace Lyons, Jayda Coleman and Alyssa Brito. pic.twitter.com/7KR0Nyprbu

— Ross Lovelace (@Rosslovelace) June 7, 2023
"The only way that you can have a joy that doesn't fade away is from the Lord. And any other type of joy is actually happiness that comes from circumstances and outcomes," Lyons told reporters.
That joy, Lyons told another reporter, "is really the only thing that can keep you motivated, just in a good mindset no matter the outcomes. … There's really no other way that softball can bring you that, because of how much failure comes in it, and just how much of a roller coaster the game can be."
Jayda Coleman, the team's leadoff hitter and star center fielder, said she couldn't agree more with Lyons.
"I went through that my freshman year. I was so happy that we won the college World Series but I didn't feel joy," she said. "I didn't know what to do the next day. I didn't know what to do for that following week. I didn't feel fulfilled and I had to find Christ in that.
"I think that is what makes our team so strong is that we're not afraid to lose because it's not the end of the world if we do lose. Yes, obviously, we worked our butts off to be here and we want to win, but it's not the end of the world, because our life is in Christ and that's all that matters," Coleman added.
The Sooners' victory over Florida State gave Oklahoma the historic distinction of being the only team to win three consecutive NCAA Division I softball titles.
For infielder Alyssa Brito, however, the God of outcomes is far greater than the outcome of a single game or even a season.
"We're really fixing our eyes on Christ," said Brito. "You can't find fulfillment in an outcome, whether it's good or bad. I think that's why we're so steady in what we do and in our love for each other and our love for the game, because we know this game is giving us the opportunity to glorify God."
Far from being a performance for the cameras, the OU stars continued praising God for their success on social media. 
Following the title game, Lyons shared an Instagram video on June 8 in which she described how her walk with God has shaped her approach to both winning and losing.
In a letter titled "Dear Softball," Lyons said, "For a while, you were something that my hands had such a tight grip on. My identity was tied so tightly to a game that leads to failure almost all of the time. and I rode the roller coaster of emotions. 
"Then I met Jesus. I learned I have a loving Father who died for my sins and has a plan for my life, a plan to give me hope and a future."