One Million Moms Slams Dove for Portraying Man as 'Mom' in Baby Commercial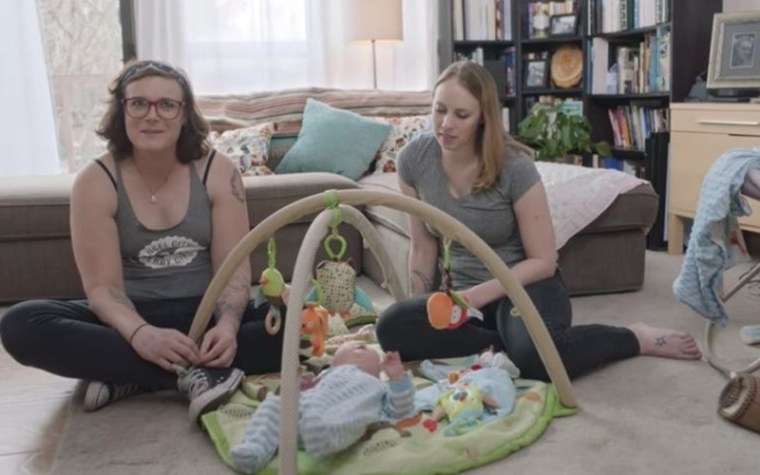 The conservative group One Million Moms has slammed a new ad by Dove that features a cross-dressing man who identifies as a "mother" to his newborn son. 
Monica Cole, director of One Million Moms, wrote in an article for the American Family Association on Wednesday that the "disturbing" ad, which shows a "cross-dressing father trying to pass as a mother," is promoting an unhealthy presentation of what a mother is.
The ad does not make clear whether "Shea" is transgender or cross-dressing, but Shea says that he is the child's biological parent, and that he and his wife are "both going to be moms."
"There's no one right way to do it all," the ad, promoting its Baby Dove product line, declares.
Cole wrote, however, that Shea "is objectively and immutably a man. The lowest-bar requirement for mothers is that they are objectively female."
She added: The essential feature of mothers is their objective sex as females. Whatever else a mother is, she is first and necessarily a woman. This man is not, and never can be a woman, and, therefore, he is not, and never can be a mother."
Cole accused Shea of effectively rejecting his sex and of having "abandoned his son."
"What message does this send his son? While looking inward to his own narcissistic and disordered desires, 'Shea' ignores both the needs and future desires of his son who will long for a father who rejoices in his role as a father. His son will long for a father who isn't a public spectacle," she continued.
"And his son will need a father to be a role model for him, to show him the way to become a man and to teach him to love his own maleness. 'Shea' will instead teach his son to be ashamed of and guilty about his own natural and proper feelings of sorrow for his missing father."
Dove's ad depicts several other mothers making statements about motherhood.
"You are the only expert in your kid," one mother says. "Believe in yourself. Believe in your ability as a woman. What you can do is what you can do," another adds. "Do what fits your family, and trust yourself," a third declares.
Dove reportedly responded to Cole's concerns by telling her that the company "did not wish to offend anyone."
"Our ads are designed to be informative, truthful and 'in good taste,'" Dove claims. "The agencies creating our advertising adhere strictly to our guidelines."
"In developing product messages, we may not always anticipate all possible implications of a television commercial."
The One Million Moms director found the response to be absurd, and asked how the company "has the the audacity to use the word 'truthful' when explaining how their ads are designed. Truthful? I think not. A man being a mom is the farthest from the truth."
In March, One Million Moms also went after the Disney Channel for depicting several gay kisses in an animated episode on one of its children's shows.
The conservative group started a petition against Disney, garnering over 63,000 signatures.
"This is the last place parents would expect their children to be confronted with content regarding sexual orientation. Issues of this nature are being introduced too early and too soon, and it is becoming extremely common and unnecessary," the petition reads.
Watch Dove's "Real Moms" ad below: