Only 60 Percent of Evangelicals Voted for Trump?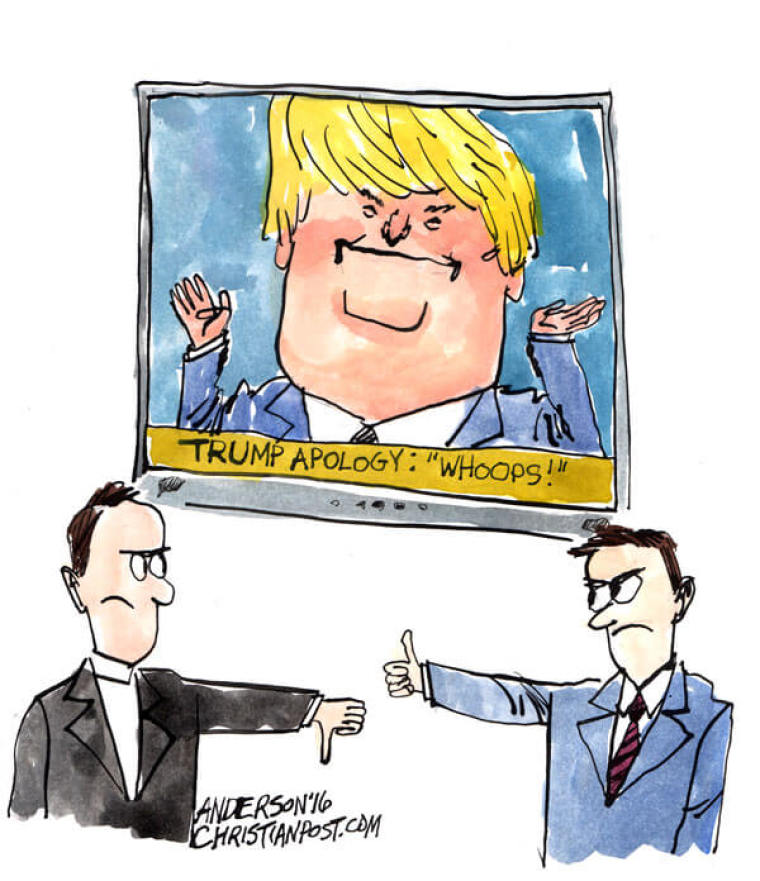 A survey of over 64,000 American adults conducted in the days following the 2016 election finds that only 60 percent of evangelicals actually voted for President Donald Trump, compared to the 81 percent of white evangelicals who told exit pollsters they voted for the billionaire Republican nominee.
Different surveys using different methods of classifying religious voters, have been published in the months following last November's election and most of them have shown that about four out of five white evangelicals voted for Trump. The variety of methods used illustrate the difficulty researchers have in defining "evangelical." 
Exit polls, which identified white evangelicals through self-identification, found that 81 percent of white evangelicals voted Trump.
A Barna poll published in December, which held that respondents must meet nine different criteria in order to be considered evangelicals, found that about 79 percent of all evangelicals voted for Trump with a margin of error of plus or minus 4 percentage points.
The Cooperative Congressional Election Study, a poll administered by YouGov/Polimetrix, found that only 60 percent of evangelicals (from every race except African-Americans) voted for Trump, according to Dr. Ryan Burge, a political science instructor at Eastern Illinois University.
The CCES poll, which had a national representative sample, used a "reltrad" classification scheme.
Reltrad is a classification method that groups respondents into categories based on religious affiliation and tradition. Reltrad allows for Hispanics, Asians and other non-African-American minorities to be grouped in as evangelicals if they belong to evangelical churches like Southern Baptists, Free Methodists, non-denominational and others. Reltrad categorizes black evangelicals as "Black Protestants."
After Burge recently authored a blog post stating that the CCES found that 60 percent of evangelicals voted for Trump, he later had to issue an update after he received so many questions about why the survey shows such a large drop in evangelical support for Trump as compared to the other polling results.
In his update, Burge shared a reltrad classification that only measured white evangelicals. Burge explained that the CCES data shows that that 75.8 percent of white evangelicals voted for Trump, which is a figure more in line with what data from the exit polls and Pew research found.
"I got a lot of people asking me why it was so low. Then I went back to make sure I did this right," Burge told The Christian Post on Monday. "Traditional reltrad — the academic side — says, 'If you are not black and attend a Southern Baptist church, then you are an evangelical.' But, Pew says you have to be white to be evangelical. That means you are sifting out Hispanics, Asians and Native Americans and mixed race and all those people are more liberal than a traditional evangelicals. If you keep them in, it is going to drag your sample down to below 75 [percent in favor of Trump.]"
Burge said the reason why he posted the update to the blog is because he feels that most Americans think of evangelicals as being conservative, white, Southern Baptist-type Christians.
"There is a huge debate about what an evangelical is and I think that when we think evangelical generally, it needs to be white evangelical," he said.
"The word has taken on a life of its own and no one can agree on what it is," he added. "That is the problem. Whenever, I say things like 'X percentage of evangelicals voted for Trump.' I want to spend five minutes qualifying that and say, 'Well, if it is only whites, then its got to be they attend church every week' and that kind of stuff."
Burge stated that it is not easy to accurately categorize evangelicals for research purposes and pointed out the flaws with each method of classification.
The reltrad method, although it groups people based on their denominational affiliation and religious traditions, has its issues, Burge argued.
"What it does is assumes that denominations are sort of monolithic. If you are Free Methodist, it means the following things: you believe in a literal bible, you believe in a literal resurrection and all these things," he stated. "The reality is that in some of the denominations it is 60-40, 70-30."
"I'm a pastor in the American Baptist Church, which is kind of a moderate flavor of the Southern Baptist Convention but we are mainline and reltrad puts us in the mainline camp. It makes sense because SBC is evangelical and we are mainline," Burge continued. "But, we just did a survey of American Baptists clergy before the election and if you look at the clergy who said they were going to vote for Trump versus the clergy who said they were going to vote for Clinton, the Trump-voting clergy look exactly like Southern Baptist clergy on theology issues. There is no physical difference between Trump-voting ABC clergy and SBC clergy."
Burge added that the reltrad method "paints with a broad brush."
"To me, it is crude measure but it has to be because you can't have 17 different classifications of everybody," he added. "It's simple and that is the reason why it has been so successful because it is simple. But it misses stuff."
Burge told CP that a common problem with polling methods for evangelicals is that most people don't know what evangelical even means or what denomination their own church is affiliated with.
"When you ask them in a poll, they are going to say generic Methodist. But if you are United Methodist, you are Mainline and if you are Free Methodist, you are evangelical," Burge explained. "So, which one is it? That's the problem. People don't know who they are and that is what we have to find our way around."
As for Barna's technique of qualifying respondents to be evangelical through selected criteria, Burge says that method could lead to researchers telling respondents that they are evangelical even when they don't identify as evangelical.
"To me, that is a little bit heavy-handed also because that is basically the researcher telling you what you are as opposed to you telling the researcher what you are," Burge explained. "The problem is that if we ask them if they are evangelical are not, the only people who are going to know what evangelical is are hardcore, far-right evangelicals."
As for polls that allow respondents to self identify as evangelical, Burge says that Christians like Catholics and Mormons often get grouped in as evangelicals because they believe that they are evangelicals or are misguided about what the word means.
"I don't think that is a very good approach. If you let them self-identify, you are going to walk into a mess," Burge said.