Openly Gay Football Player Michael Sam Selected by St. Louis Rams in NFL Draft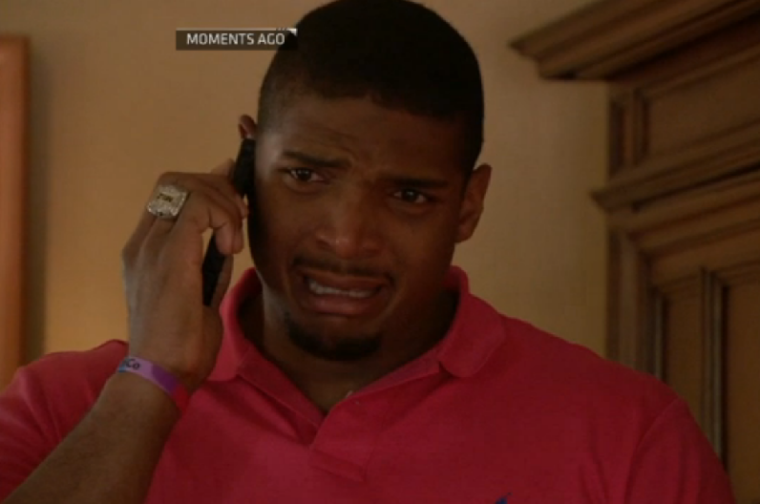 Michael Sam made history on Saturday night when he became the first openly gay football player in the National Football League (NFL) after the St. Louis Rams made him the 249th overall choice in the 2014 NFL draft.
The announcement of the selection of the Missouri defensive end triggered celebration among gay advocates nationwide. A video of Sam reacting after receiving the call from the Rams and coach Jeff Fisher shows him celebrating with his boyfriend and other friends and family.
"In a world of diversity we live in, I am honored to be a part of this," Fisher said in an ESPN report.
Despite strong criticism of Sam's athletic ability and his fears that his sexual orientation would be a distraction for any team that selected him, Fisher said his decision to select Sam was based solely on his ability to play football.
"I don't have any concern whatsoever," Fisher said. "We drafted a good football player."
Sam will now get the opportunity to play a few hours from his college home in Columbia, Missouri.
Sam acknowledged the selection publicly in on Twitter just after 7 p.m. Saturday.
"Thank you to the St. Louis Rams and the whole city of St. Louis. I'm using every once [sic] of this to achieve greatness!!" he tweeted.
In an interview with USA Today, gay former NFL Player Wade Davis said: "For Michael, it's a little bit of relief that it's over, and you can finally say you're part of the NFL family. That is a dream come true for so many football players. That's a realization that all his hard work has paid off…Now he can really start to focus on his new journey."
Since Sam announced his sexual orientation in February the public has responded with mixed reactions.
On Thursday, Jack Burkman, head of the Washington, D.C. lobbying firm J.M. Burkman & Assoc. who is seeking to ban gays from the NFL, told The Christian Post in a release that he intends to build a national coalition to boycott any football franchise that picked Sam in the draft.
"We shall exercise our First Amendment rights and shall not stop until the drafting NFL franchise cannot sell a single ticket, jersey or autographed football," said Burkman. "In short, we shall be relentless."
Dr. Richard Land, president of the Southern Evangelical Seminary in Charlotte, North Carolina, and former president of the Ethics & Religious Liberty Commission, who is also the executive editor of CP, advised against that reaction.
"I'm adamantly opposed to such efforts," he said. "A person's sexual preference should not be an impediment to their livelihood in the sports industry. I think it's unwarranted, unjustified and unfair to try to intimidate NFL teams from drafting someone because of their sexual orientation."