Operation Christmas Child Delivers Early to Barbudan Children Displaced by Hurricane Irma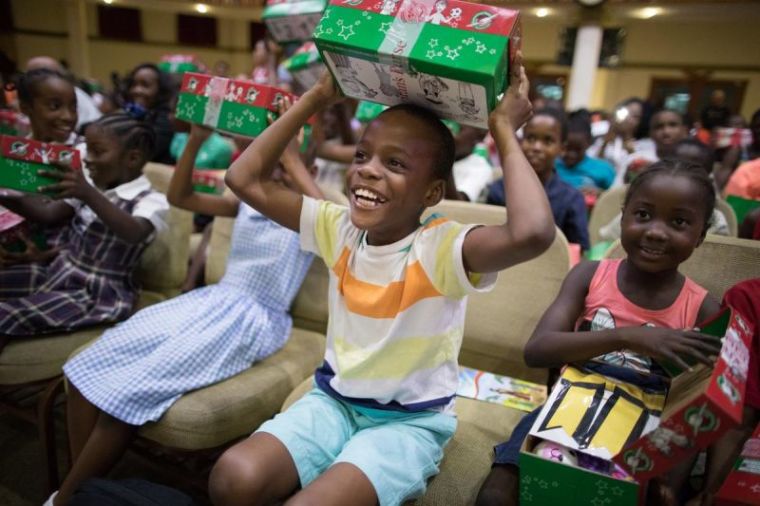 About 250 children from the Caribbean island of Barbuda, whose homes were destroyed by Hurricane Irma in September, have received early Christmas presents, delivered to them by a Texas pastor and his wife whose own home was destroyed by Hurricane Harvey in August.
Pastor Mark and Cherry Brumbelow of Wild Peach, Texas, traveled with representatives of the evangelical humanitarian organization Samaritan's Purse to the island of Antigua last week, where they had the privilege of handing out Operation Christmas Child gift-filled shoeboxes to hundreds of Barbudan refugee children evacuated from the island after the category five storm made the island uninhabitable for the first time in 300 years.
Operation Christmas Child, a Samaritan's Purse-operated annual gift drive fueled by churches and volunteers across the United States who pack shoeboxes full of toys, school supplies and hygiene items that are delivered to kids in impoverished nations, decided to give Barbudan children an early Christmas present.
Although Operation Christmas Child's annual collection week is this week (Nov. 13 – 20) at churches all across the U.S., the Barbudan children who seemingly lost everything in the September storm received their Christmas shoeboxes last Tuesday.
"Although we weren't able to take all that they needed, praise God that we were able to take a shoebox and the recipients of these shoeboxes heard the Gospel message and it was so wonderfully presented that day," Mark Brumbelow, pastor at Grace Baptist Church in Wild Peach, told The Christian Post this week.
"More than that, the shoeboxes just put smiles on their faces. Children that had so much to frown about had so much to smile about that day. It was just such a blessing to feel that joy and the excitement and be a part of that."
With the evacuated Barbudan population being about 1,800, Brumbelow explained that the goal of the trip to Antigua was to give every child from Barbuda an Operation Christmas Child shoebox.
"It's the intention that every child from Barbuda receive a shoebox and we sure headed out in that direction Tuesday," Brumbelow said, adding that there were a handful of Barbudan children that were not present at the gift delivery. "There were other shoeboxes that local OCC representatives will be getting to the other children as well."
As for the Brumbelows, they know what it is like to have their home destroyed by a hurricane.
Right as Hurricane Irma was forming in the Caribbean in late August, Hurricane Harvey, which had caused major flooding throughout Southeast Texas was subsiding.
The Brumbelows' home was overrun with floodwater that grew as high as 22 inches deep. The home suffered so much flood damage that the Brumbelows decided that the best thing for them to do was to demolish their home of 30 years and start over.
For now, the Brumbelows are living in a rent house they were in the process of building near their home. The Brumbelows were not done building the house before the hurricane hit. But thanks to the help of volunteers, they were quickly able to get it into a livable condition.
"We were to the point where we had the raptors up but no more. It was just on open house. It also flooded. But since it was open, it really didn't hurt anything. So a group of dear friends of ours from the Volunteer Christian Builders kind of rallied the troops, came and hurriedly helped us get this house to a livable condition."
"God has been awfully good to us through this," he continued. "Isaiah 43 has become very dear to us, where God said, 'When you pass through the waters, I will be with thee.'"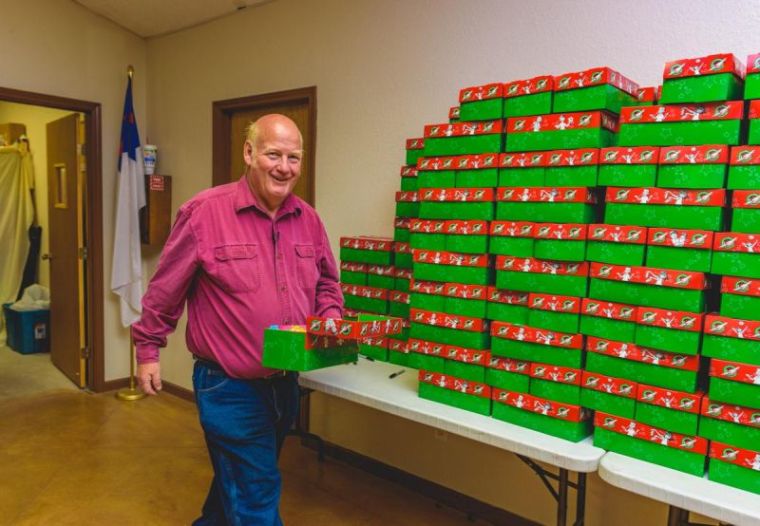 The Brumbelows are not the only ones in their church community to have been displaced by the storm, as there are as many as seven households in the Grace Baptist Church community that were greatly damaged or destroyed.
Despite all the damage caused in their own homes, the Grace Baptist Church community still took seriously its call to pack Christmas shoeboxes for the underprivileged children across the world.
Although the church has only about 30 members, Grace Baptist Church has donated a total of 8,031 Operation Christmas Child shoeboxes this year, Brumbelow told CP.
Many of the shoeboxes handed out to the children of Barbuda in Antigua were packed by the Grace Baptist Church community.
Brumbelow explained that it was about four years ago that God challenged the church to increase its contribution to the Operation Christmas Child drive. Before that, the church was only contributing a handful of shoeboxes to the drive every year.
"It was four years ago that God really started challenging us to reach further and just step out on faith and trust Him in this ministry. He has blessed us tremendously," the pastor said. "God has enabled us to do really impossible things. It's all about Him. Without His blessing we fall flat on our face."
As this week is Operation Christmas Child's annual collection week, Brumbelow encourages Americans around the nation to contribute to the cause.
"A shoebox is such a simple thing," he said. "Anyone can take a shoebox and pack it full of toys and school supplies and things but what an impact it has on children and what a blessing to be a part of it."
While Operation Christmas Child seeks to bring hope to many children victimized by this year's hurricanes, Samaritan's Purse disaster relief units have been actively involved in providing crucial humanitarian aid to hurricane victims in the Caribbean, Texas and Florida.
Samaritan's Purse has delivered over 753 tons of emergency supplies to the Caribbean islands alone.