Oprah Near Nervous Breakdown Due to Busy Schedule?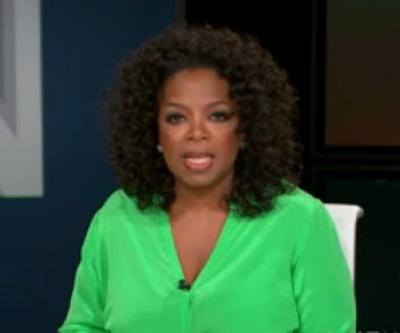 Oprah Winfrey recently opened up about almost suffering a nervous breakdown in 2012, in the midst of her struggling OWN network.
The media mogul, 59, left daytime television to launch OWN in 2011 however the network initially struggled to get off the ground for several months. It was during her interview with "Kony 2012" director, Jason Russell, for "Oprah's Next Chapter" that Winfrey realized that she could relate to his breakdown symptoms.
"I was sitting and listening to Jason Russell describe his [breakdown] symptoms…. Saying, 'Um, this sounds pretty familiar to me,'" Winfrey told Access Hollywood's Shaun Robinson.
In March 2012 Russell suffered a public breakdown on the streets of San Diego and video footage showed him running around naked in a confused state and screaming. At the time of Winfrey's near-breakdown, the actress and philanthropist was struggling to save her declining OWN network OWN while also flying across the country to conduct celebrity interviews, and in addition filming her lead role in Lee Daniels' film, "The Butler."
"What were the symptoms?" Robinson asked Winfrey.
"In the beginning, it was just sort of speeding and a kind of numbness and going from one thing to the next thing to the next thing. I will tell you when I realized that I thought, 'All right, if I don't calm down I'm gonna be in serious trouble,'" she revealed.
"I was in the middle of doing voiceovers, you know? And I remember closing my eyes in between each page because looking at the page and the words at the same time was too much stimulation for my brain," she added.
Winfrey took the time to clarify that she did not suffer from an extreme breakdown like Russell's, but that she came close.
"I mean, I wasn't ready to go run naked in the streets. Let's make that very clear," she said "But I had reached a point where I just couldn't take in anymore stimulation. Ok? That's what I meant by that."
In May 2012 reports claimed Discovery Communications, which partnered with Winfrey to create OWN, had lost a significant portion of the $600 Million that the company invested in 2008, according to BusinessWeek magazine.
In July 2013 David Zaslav, CEO of Discovery Communications, confirmed that the company turned profits, specifically a 30 percent rise in revenue, according to the New York Post.