Oral Roberts upsets Florida to advance to Sweet 16 of NCAA Tournament: 'It's a blessing'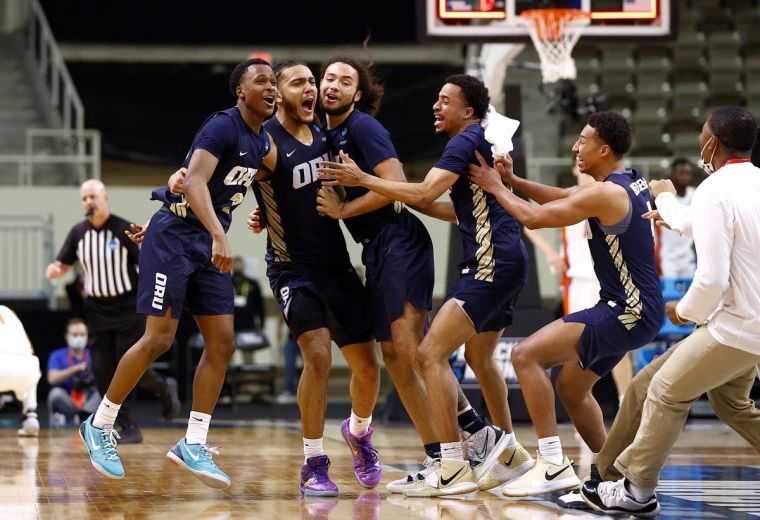 Oral Roberts University basketball team's "miracle" run at the NCAA Men's Basketball Tournament will continue after the Oklahoma-based Pentecostal Christian school earned an upset victory over the University of Florida Sunday night. 
The No. 15-seeded Oral Roberts Golden Eagles defeated the seven-seeded Florida Gators on Sunday at the Indiana Farmer's Coliseum, staging a comeback from a five-point first-half deficit to win the game 81-78.
With the win, their seventh straight victory, the Golden Eagles enter the Sweet 16 of the tournament for the first time since 1974.
Oral Roberts trailed by six with under five minutes left to play in the second half but outscored the Gators 13-4 thanks to 3-pointers from redshirt junior Kevin Obanor and redshirt sophomore DeShang Weaver.
The Golden Eagles defense also answered the challenge by forcing 20 turnovers throughout the game. 
Coach Paul Mills, who recently graduated from Dallas Theological Seminary, opened the press conference following the game by stating that "there is a gospel hymn that says, 'Praise God, from whom all blessings flow." 
"It's a blessing to coach those guys in that locker room," Mill told reporters. "It's a blessing to win. The experience that these guys will have, I don't mean to come across as if we are content, but I am so happy for those players in that locker room. For me, I am glad that I get a chance to do laundry. … I have run out of clothes."
Not many predicted that ORU would make it this far in the tournament. Last Friday, ORU delivered a major upset when they defeated the No. 2 seed Ohio State University Buckeyes in overtime by a final score of 75-72. Obanor, a forward, scored 30 points. 
In ESPN's Men's Tournament Challenge, more than 95% of nearly 14 million brackets picked the Buckeyes to win that game, making it one of the biggest upset victories of the year.
"I'm thankful to Jesus Christ for putting us in this position," stated Obanor, lead scorer in the Ohio State game. 
"We want it very bad. It's bigger than us, just to leave a legacy behind for ORU. I'm just very eternally grateful, and I just can't wait to play tomorrow."
The Golden Eagles will play the University of Arkansas Razorbacks on Saturday, a rematch from December when the Razorbacks defeated ORU by 87-76.
Mills graduated from Dallas Theological Seminary with a master's in biblical and theological studies last summer.
ORU is not the only liberal arts Christian school advancing in the tournament. The No. 1 seed Baylor University Bears, where Mills previously served as a coach, defeated the University of Madison-Wisconsin Badgers on Sunday by a score of 76-63.
Oral Roberts University was founded in 1963 by Pentecostal televangelist preacher Oral Roberts, who was known for his faith healing crusades. He passed away in 2009 at age 91.