Orange Gitmo Beard? Guantanamo Bay 9/11 Suspect Appears With Orange Dyed Beard (PHOTO)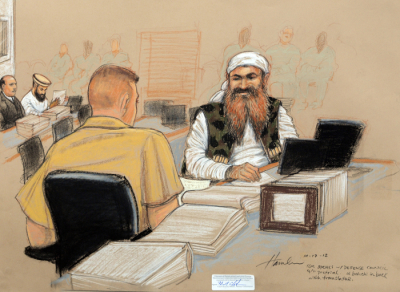 How do you get an orange beard in Gitmo? Use juice and berries. That is what 9/11 terror planner Khalid Sheikh Mohammed used to dye his grey beard while in Guantanamo Bay, according to new reports.
It appears as though the 9/11 terrorist suspect was attempting to make his beard look less "grisly" for court, according to the New York Daily News. Mohammed was seen with the orange beard in leaked portraits from his May arraignment.
The suspect, believed to be in his late 40's or early 50's surprised some by sporting the orange beard when he showed up in court, having previously been seen with a grey rugged beard. Having been in Guantanamo Bay Camp 7, many were wondering how he would have gotten the appropriate hair dye to make the transformation.
The suspect also appeared for another court hearing just last week with the same orange beard. He was making an appearance in court for the first of his pretrial hearings in the case looking at a death penalty.
Some had rumored that contraband dye had made its way into Guantanamo Bay and questioned the security at the camp. However, on Tuesday the Defense Department denied that any such security breach had been committed.
A Pentagon spokesman instead said that Mohammed "did craft his own safe, natural means by which to do it."
The spokesman explained that he had dyed his beard using berries from breakfast, juice, and other natural, non-toxic items provided to prisoners for nourishment, according to the NY Daily News.
Previously Osama bin Laden was also caught up in a dye controversy when a video emerged after his death showing him with a dark neatly trimmed beard. It was later claimed that bin Laden was using popular men's dye called "Just for Men," to maintain his appearance as more youthful and relevant, following his years of aging and slumming it in hiding.
Mohammed and four co-defendants are being tried on charges that they planned the suicide attacks that killed nearly 3,000 on 9/11. They face the death penalty if convicted.
Court Rules Khalid Sheik Mohammed Can't Testify About Torture