Orlando Megachurch Pastor Joel Hunter Says He Will 'Examine His Heart' After Gay Club Shooting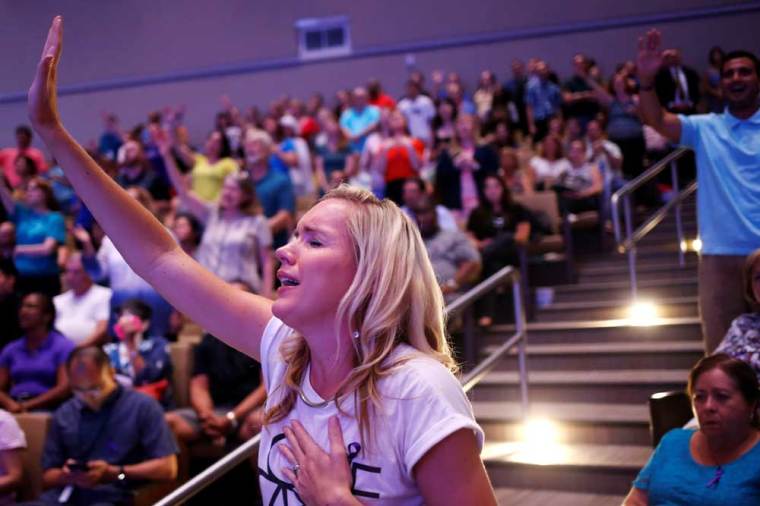 Orlando megachurch pastor Joel Hunter said he had to "go back and examine his own heart" following the terror attack at Pulse gay nightclub Sunday that killed 49 people and is the worst mass shooting in U.S. history.
"So I've got to go back and examine my own heart, starting tonight in services, I've got to confess to my congregation that if there's anything I've said that could have ever led to anything — the dismissal or denigration of any other population — God, I am so sorry for that," said Hunter in an interview with Religion News Service when asked what responsibility American evangelicals have in LGBT being labeled as "others."
Hunter, the senior pastor of the 20,000-member non-denominational evangelical Northland, A Church Distributed, said, however, that it's unlikely that evangelicals will "change the way we interpret Scripture" regarding the position on homosexuality after the Orlando shooting. But he also said that many conservative Christians want to make sure that LGBT people are "treated with respect – that they're given every opportunity to live their full lives, that they're as precious in the eyes of God as anyone who has ever been made."
On Sunday, an Orlando Sentinel reporter posted a photo of Hunter and local Muslim leaders shaking hands with Equality Florida's Carlos Smith to express solidarity and condolences after the shooting.
Pulse gay nightclub was hosting hundreds of patrons on Sunday when gunman Omar Mateen opened fired on them and left dead 49 people and dozens more injured, some in critical condition with doctors saying the death toll could go up in the next few days. Mateen had called 911 and expressed allegiance to the Islamic State, but investigators are still examining if he had any real ties to ISIS or if his pledge was an afterthought.
Mateen's ex-wife Sitora Yusufiy, who was married to him in 2009 for four months, has said that he was abusive to her. Yusufiy's current fiance, Marco Dias, spoke on behalf of her on Brazilian television station SBT Brazil and revealed that Mateen had "gay tendencies" and his father had called him gay in front of her.
Pulse customers, classmates, and staff have also said that Mateen frequented the gay nightclub for years and reportedly even used the gay dating app Grindr.
Authorities are currently looking into Mateen's motives for carrying out the massacre and are now investigating his widow, Noor Salman, to determine if she should be charged as an accomplice. Salman is said to be cooperating and told investigator that her late 29-year-old husband had expressed interest in carrying out a jihadist attack and she had gone with him to buy ammunition at least on one occasion.
In addition to Joel Hunter, evangelical pastors Franklin Graham and Samuel Rodriguez have mourned the deaths of the Orlando shooting victims with Graham leading some 5,800 people in prayer Tuesday for those affected during his Springfield, Illinois stop for his Decision America tour.
 A statement by Rodriguez and William Jessup University President John Jackson reads: "It is the heart of Jesus to save, heal, and deliver. Christian leaders lead people to the love, grace, truth and healing hope of Jesus, not to insensitive judgment. We pray for the gay community to experience the love and grace of Jesus and His people, both in Orlando and across the United States. We pray for safety for their community and for all Americans during this violent and unsettled time."