Over 20 Chinese Christians Arrested for Sharing Gospel, Holding Public Worship Service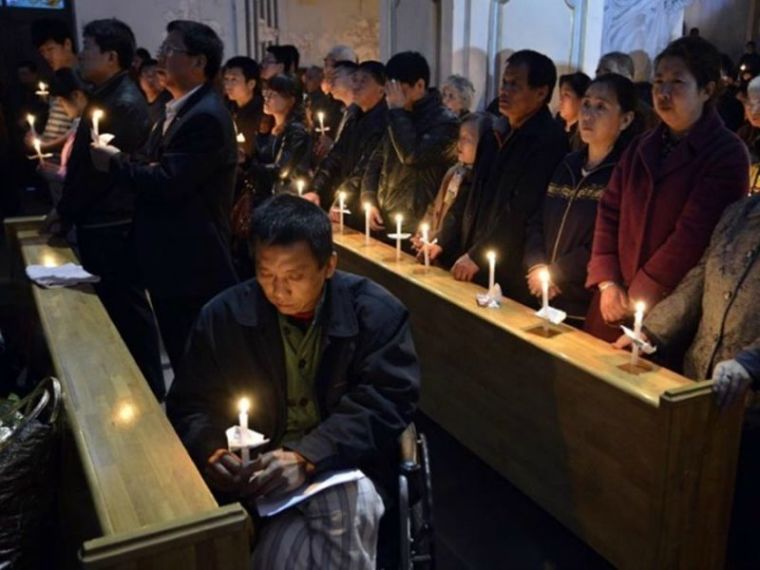 At least 20 Christians were detained and held by police in China's southern Sichuan province as they were evangelizing and holding a public worship service.
China Aid, a leading Christian persecution watchdog, reports that more than 20 Christians were arrested and detained in two separate police stations on Oct. 20 for proselytizing on a public street and holding a worship service in a public park.
The detained Christians were part of a street evangelism team from the Early Rain Covenant Church in Chengdu, one of the area's most well-known unregistered churches.
The Christians were jailed because rules ban evangelism outside of registered religious sites.
While in detention, the jailed Christians reportedly took turns sharing their faith. Meanwhile, those who were not arrested continued to evangelize in the streets.
All of the detained Christians were released from detention later that evening but no details were given on the condition of their release.
"The Gospel has been proclaimed. We gave out all the leaflets. Those brothers and sisters [in Christ] who were waiting at the police station brought more and distributed them all," Early Rain Covenant Church pastor Wang Yi was quoted as writing in a message on social media. "We encountered another police station and got to know a group of people who believe in Christ. May the Lord's love be with these law enforcement officers."
The detention of the 20-plus pastors comes as China regularly cracks down against religious activities that have not been sanctioned by the state.
China Aid founder Bob Fu told U.S. Congress last month that China's persecution against Christians and other religious minorities has reached a "level that has not been seen since the beginning of the Cultural Revolution by Chairman Mao [Zedong] in the 1960s."
This is not the first time government officials in China have harassed Early Rain Covenant Church.
In June, the church was planning to hold a prayer service to commemorate the anniversary of the Tiananmen massacre. However, several police officers shut down the church just hours before the service was to be held.
According to Asia News, the church has every year since 2009 held a month of prayer that runs from May 12 ( the anniversary of the Sichuan earthquake) to June 4 (the anniversary of the Tiananmen Square massacre). Yet, this was the first year that authorities halted the anniversary ceremony.
China ranks as the 43rd worst country in the world when it comes to Christian persecution, according to Open Doors USA's 2018 World Watch List.
"While the distinction between government-registered and unregistered churches used to be a major factor in whether or not they were persecuted, this is no longer the case," an Open Doors fact sheet reads. "All Christians are slandered, which seems to support the widely held belief that the Communist Party is banking on a unified Chinese cultural identity to maintain its power."
As China has gone on a binge of removing crosses from churches across the nation, Fu told Congress last month that China is also working with its state sanctioned Christian church networks — the Three Self Patriotic Movement and the Chinese Christian Council — to rewrite the Bible as part of its five-year plan to make Christianity more compatible with socialism.
"The plan made it clear that 'Sinicization of Christianity' means to change 'Christianity in China' into 'Chinese Christianity,'" Fu explained. "[The plan] emphasized that 'the heart and soul of Christianity's Sinicization is to Sincize the Christian theology,' and even proposing to 're-translate the Bible or re-write biblical commentaries.'"
Fu said that China's retranslation of the Bible would be a summary of the Old Testament that would incorporate Buddhist Scripture and Confucian teachings as well as new commentary on the Old Testament.
In state-sanctioned churches, Fu warned that the government is requiring services to begin with church choirs singing communist revolutionary songs.
Fu also warned that for the first time since the Cultural Revolution of the 1960s, Chinese citizens are being forced to sign a form renouncing their faith.
"We have produced documentation showing [government officials] going door-to-door to force believers to sign a prepared form claiming that these believers were misled by evangelists into believing Christianity," Fu said. "Now, after a few weeks of self-examination and political studies, they have realized they made a mistake. This has not happened in the past."
Earlier this month, it was reported that six Protestant churches in Guizhou Province were shutdown by authorities earlier this month.