Over 250 Christian Scholars Endorse Statement Condemning White Supremacy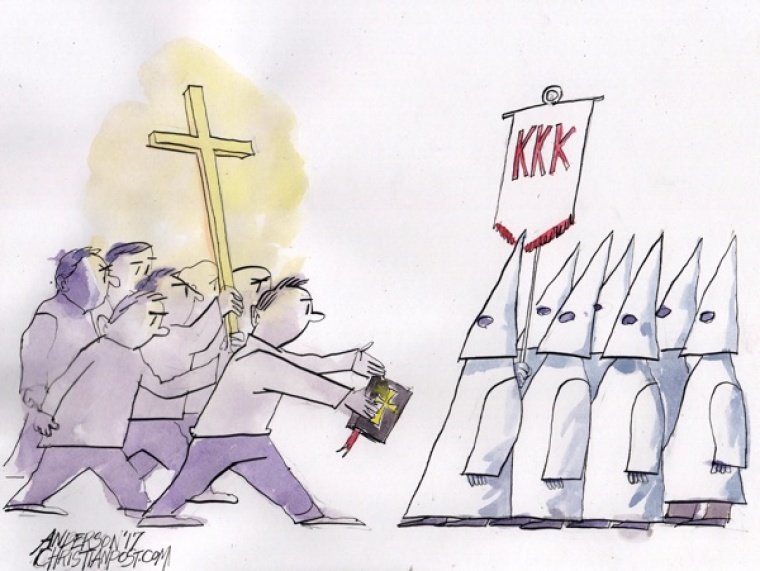 A bipartisan group of over 250 Christian scholars have endorsed an open letter condemning white supremacy and have called on all religious and political leaders to do the same.
In response to the violence that occurred between white supremacist protesters and counter-protesters in Charlottesville, Virginia, earlier this month, Baylor University History Professor Thomas Kidd and George Fox University Political Science Professor Mark David Hall teamed up to draft a statement, titled "An Open Letter from Christian Scholars on Racism in America Today."
The open letter, which was endorsed by more than 250 other Christian scholars, was published last Friday on Kidd's blog at The Gospel Coalition website.
"Like many Americans, we are grieved by recent events in Charlottesville. The white supremacist rally there showed that overt racism is alive and well in America, and that it can turn violent and murderous," the letter reads. "As Christian scholars of American history, politics, and law, we condemn white supremacy and encourage frank dialogue about racism today."
The letter explains that although slavery was abolished in the United States in 1865, the sin of racism was not.
In fact, the scholars argued that racism had been institutionalized and "heightened" through Jim Crow laws. Although legal slavery and Jim Crow laws are no longer in effect in the U.S., the scholars asserted that what happened in Charlottesville on Aug. 11 and Aug. 12 "makes it clear once again that racism is not a thing of the past, something that brothers and sisters of color have been trying to tell the white church for years."
The letter calls on both religious and political leaders to denounce racism in "no uncertain terms."
"Equivocal talk about racist groups gives those groups sanction, something no politician or pastor should ever do," the letter contends. "As Christian scholars, we affirm the reality that all humans are created in the image of God and should be treated with respect and dignity. There is no good moral, biblical, or theological reason to denigrate others on the basis of race or ethnicity, to exalt one race over others, or to countenance those who do."
"​Even as we condemn racism, we recognize that the First Amendment legally protects even very offensive speech. Rather than trying to silence those with whom we disagree, or to meet violence with more violence, we encourage our fellow citizens to respond to groups like the neo-Nazis, white supremacists, and the Ku Klux Klan with peaceful counter-protests."
The letter also calls on Christians to pray that members of racist organizations will have a change of heart and find the "truth" about the ugly ideologies that they believe in.
"No one is beyond redemption," the letter states.
The letter also points out that white-majority churches and denominations have "too often lagged in discussions of racial injustice and inequality" or themselves "have even been sources of the perpetuation of white cultural dominance and racial injustice."
"Because of that history, we pray that America's churches and Christians will renew their commitment to practical, proactive steps of racial reconciliation and friendship in our cities and towns."
Included in the diverse group of Christian scholars that endorsed the open letter are Southeastern Baptist Theological Seminary President Daniel Akin, Billy Graham's grandson and Liberty University law professor Boz Tchividjian, Messiah College History Department Chair John Fea and Christian Post Politics Editor Napp Nazworth.
As noted by Bethel University History Professor Chris Gehrz, who also endorsed the letter, the letter was endorsed "by at least as many conservatives as progressives and moderates." He also pointed out that the open letter was endorsed by Jay Green, the president of the Conference on Faith and History, and a number of his predecessors. 
"The still-growing list of signers includes a who's who of Christian scholars from various traditions," Gehrz wrote in a post at Patheos.com.
The open letter was published on the same day that the "Charlottesville Declaration" was published by the Reformed African American Network. The declaration was signed by over 80 African-American Christian leaders who called on white evangelicals and black churches to condemn white supremacy and racism.
"[W]e call upon white leaders and members of the evangelical church to condemn in the strongest terms the white supremacist ideology that has long existed in the Church and our society," the declaration states. "Nothing less than a full-throated condemnation can lead to true reconciliation in the Lord's body. Additionally, this condemnation must not be in word only, but also in deeds that 'bring forth fruits worthy of repentance' (Luke 3:8). As Dr. [Martin Luther] King notes in Letter from Birmingham Jail, white apathy is worse than white supremacy."