Illiterate Christian Man Accused of Sending 'Blasphemous' Texts to Islamic Cleric Appeals Death Sentence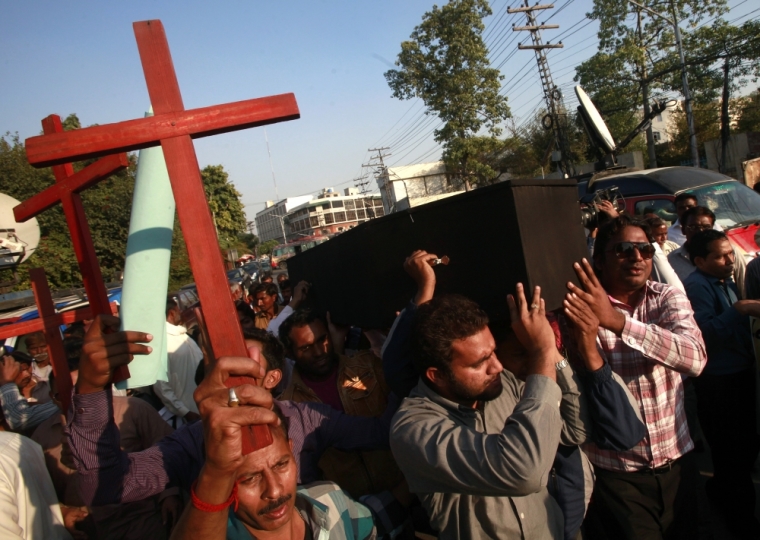 A disabled Christian man who has been sentenced to death alongside his wife for allegedly sending blasphemous text messages to an Islamic cleric has filed an appeal at Lahore High Court, seeking bail due to his deteriorating health.
"I have developed bedsores and I may die in jail as there is no possibility of a better treatment there," Shafqat Masih, who is paralyzed from his waist down, said in his petition, according to the Deccan Chronicle.
"There are serious contradictions in witness accounts against me and my wife and we are hopeful of an acquittal on our appeal," he added.
Masih, alongside his wife, Shagufta, both of whom are in their 40s, were convicted and sentenced to death on charges of blasphemy back in April 2014. The couple, who have four young children, were found guilty of sending blasphemous text messages to a local cleric, something which they deny on account that they are both illiterate.
"There was no evidence that the text messages came from a phone owned by the couple. In the first place they had lost the phone some months before July 2013 and secondly there was no SIM card in their names. The only evidence police produced was a bill for a SIM card from a shop owner which is unheard of," said Farukh Saif, an official of World Vision in Progress, an organization defending the Christian couple.
The Lahore court is set to hear the petition on March 5.
Human rights and persecution watchdog groups, such as International Christian Concern, have pointed out that Pakistan's controversial blasphemy laws are often used to persecute Christians and other religious minorities in the country.
While meant to protect Islamic sensitivities, the laws are often used to settle scores, for personal gain, and to oppress minorities, ICC said.
One of the most famous blasphemy cases of the past few yeas concerns Asia Bibi, a Christian mother of five who was sentenced to death back in 2010. Bibi was accused of blaspheming against Islam by a group of Muslim women who were angry at her for drinking from the same water bowl as them.
Bibi's family won the right to see her in prison without restrictions following a court decision in August, and the petition to free her has gained international momentum. Bibi's husband, Ashiq Masih, met and prayed with Pope Francis at the Vatican last April.
"We are here in Italy to make sure we can be the voice of an innocent woman who has been suffering in jail for six years," Masih said at the time.
"Since the day Asia Bibi was arrested, our family is totally destroyed. The children cannot survive without their mother. Asia Bibi misses her children, the children miss her," he added.