Pakistani Woman Condemned to Death Thanks Pope Francis; Credits Prayer for Keeping Her Alive
Asia Noreen Bibi, the first Pakistani woman sentenced to death for blasphemy in November 2010, thanked Pope Francis and all the churches praying for her and credited them with her survival after four-and-a-half years in prison.
"I am very grateful to all the churches that are praying for me and fighting for my freedom. If I am still alive, it is thanks to the strength that your prayers give me," Bibi wrote in a Christmas letter to Pope Francis. While Bibi was sentenced to death in 2010, the verdict must be upheld by a superior court, and many petitions have protested her imprisonment.
Bibi lamented the fact that, while many people have spoken and fought for her, it is "to no avail." Even though she is still in prison, she said, "I just want to trust the mercy of God, who can do everything, that all is possible." Bibi wrote that in her dire situation, "Only God will be able to free me."
"Holy Father, I want for you to accept my best wishes for the New Year," Bibi wrote. "I know you pray for me with all your heart, and this gives me confidence that one day my freedom will be possible." She expressed her desire to be in St. Peter's to pray with the pope on Christmas, and her trust that if it is God's plan, she will be there in 2014.
Bibi was arrested in November 2010 for allegedly blaspheming against the Prophet Muhammad, a claim she denies. Some of her neighbors had reportedly been pressuring Bibi to renounce her Christian faith and accept Islam. The woman responded that Jesus died on the cross for the sins of mankind, and asked her Muslim neighbors what Muhammad had done for them.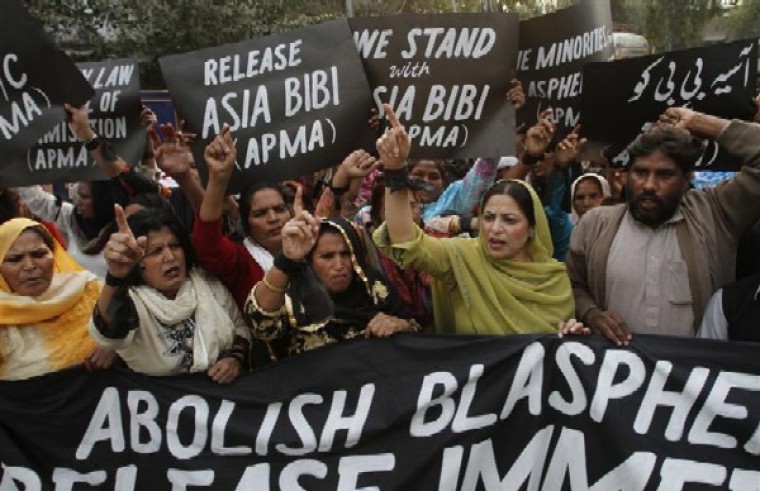 Pakistani President Asif Ali Zardari was expected to pardon Bibi, but decided against it, allegedly due to a number of "massive" protests by Muslim fundamentalists against such a move.
In January 2011, the Catholic Church of Pakistan called for "a day of prayer and fasting" particularly for peace among intensifying and violent rallies led by Islamic groups and for the release of Asia Bibi.
That same month, Bibi's lawyers requested that her hearing be held in her prison, due to the possibility that she might be murdered if she appeared in the High Court of Lahore. The journey "would expose her to shooting by radicals, as happened to the brothers Rashid and Sajid Emmanuel, accused of blasphemy and murdered during the trial before the court in July 2010," warned Haroon Masih, director of the Masihi Foundation.
In October 2011, Bibi was reportedly beaten by a female prison officer in her jail cell. Prison sources said Deputy Superintendent Sheikhupura Jail Ghafoor Anjum delayed any action against the guard who beat her, despite learning about the incident immediately after it happened. The guard was later suspended for three months. After an inquiry, a senior police official recommended the guard's immediate removal from service.
Two prominent leaders, Minority Affairs Minister Shahbaz Bhatti and Governor of Punjab Salmaan Taseer, were assassinated in 2011 after defending Bibi and criticizing Pakistan's blasphemy laws.
In January 2012, a petition for Bibi's release reached half a million signatures. Although Bibi may be released, critics claim her life will remain in jeopardy due to an increase in religious tensions.