Palin Admits She Did Not Read Phil Robertson's Comments Before Defending Them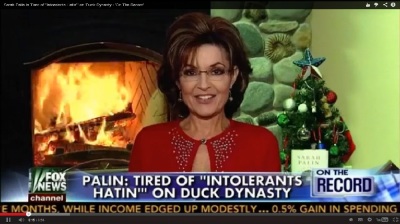 Former Alaska governor and political pundit Sarah Palin admitted Sunday that she had not read Phil Robertson's remarks before she defended him last week.
Palin, who appeared on Fox News' "On the Record," with Greta Van Susteren, was asked by the host if she personally objected to the way that Robertson had graphically discussed homosexuality.
"It is one thing to express your opinion. Do you have any problem about the manner of how he said it? I mean, we don't talk about it on television much. But if you actually read the article, it is a rather graphic and offensive, or at least I think offensive description of it," Van Susteren said. "There are two ways to say different things. And in the article, and I know he is a graphic type guy, but do you have any objection on the matters as to how he said it?"
Palin told Van Susteren that she had not read the article, which was released on Dec. 18, but that she was troubled by the fact that people had been offended by something that was in the Bible.
"I haven't read the article. I don't know exactly how he said it, but, Greta, what he was doing was in response to a question about a lifestyle that he disagrees with," said Palin. "And yet, he has over and over again, he doesn't hate the person engaging in a lifestyle that he disagrees with. But he, in response, he was quoting the gospel. So people who are so insulted and offended by what he said evidently are offended by what he was quoting in the gospel. So, you know, that's another interesting aspect in all of this."
Earlier in December, Palin spent time with the cast as part of her book tour and posted pictures of her with them on her Facebook page. On Dec. 18, she reposted a picture of her time with them and voiced support for Phil Robertson on her Facebook page.
"Free speech is an endangered species. Those 'intolerants' hatin' and taking on the Duck Dynasty patriarch for voicing his personal opinion are taking on all of us," she wrote.