Parents Praise God as 'Miracle' Daughter Born at 21 Weeks Celebrates First Birthday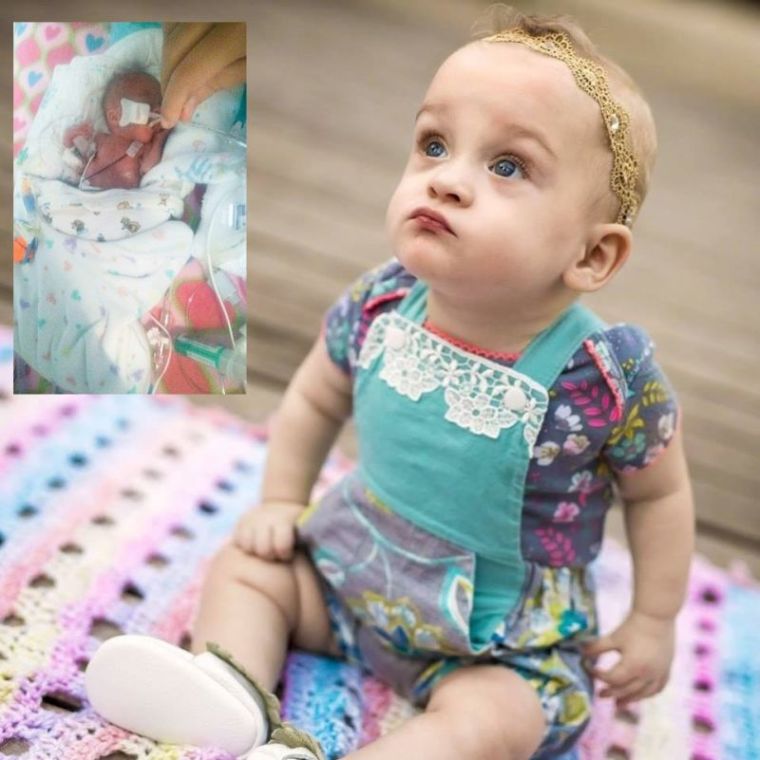 When Eliora "Ellie" Schneider was born on June 27, 2017, she wasn't expected to live. She weighed less than a pound and was about the size of a soda can.
Born prematurely at just under 22 weeks in Kansas City, Missouri, she was below the minimum 24 weeks of gestation that doctors believed was necessary to make life viable outside of the womb.
As her parents recently celebrated her first year of life with a party, they thanked God for their "miracle" baby.
"Looking at these posts from a year ago makes me realize why people said, 'I don't know HOW you do it.' I don't know how we did it either. The only things I know is 1) you do what you need to and 2) faith makes EVERYTHING possible," wrote Eliora's mother, Robin, on a Facebook page dedicated to the inspiring toddler's journey of life on Wednesday.
"The baby here and Eliora, as we know her now, are two completely different babies. This little girl was so, so sick, in constant pain, barely hanging on, and tiny as a baby bird. Our Ellie now is happy, healthy, and rolly [sic] as can be. In similar ways we have all changed on the inside. My heart was so weak, but now I know I can face anything, as long as I have God and good friends," she added.
Shortly after Eliora's birth her parents described her survival as a miracle.
"After all hope was lost and they thought she had passed, God brought her back to us when she self-stabilized after being intubated. Since then, she has gone on to amaze the NICU doctors and everyone in her life," they explained.
Dr. Barbara Carr, a neonatologist with Mednax working at Saint Luke's Hospital who started a program three years ago to treat babies born before the 24-week mark, told 41 Action News that even though Eliora's parents knew her chances of survival were slim, they kept believing she would and their faith was inspiring.
"She had all the odds stacked against her," Carr said of Eliora. "She had parents that had a very deep faith. They just continued to believe, we all kept working on and continuing to believe in her and she did well."
Nationally, only 6 percent of babies born prior to the 24-week mark survive, Carr said. In her program at Saint Luke's, 50 percent of those babies survive.
Carr cautioned, however, that, "This is not necessarily a baby that is going to be 'normal.' Parents have to be willing to accept there will be some potential handicaps both from a physical standpoint as well as a neurodevelopment standpoint."
So far, however, Eliora appears to be doing well.
In 2015, a study cited by The New York Times of thousands of premature births found that a minority of babies born at 22 weeks and were medically treated survived with few health problems. The vast majority of them died or suffered serious health issues.
The study sparked a discussion on whether the age of viability should be lowered from the 24 weeks.