Paris Attacks: One of 7 Terrorists Identified as Omar Ismaïl Mostefai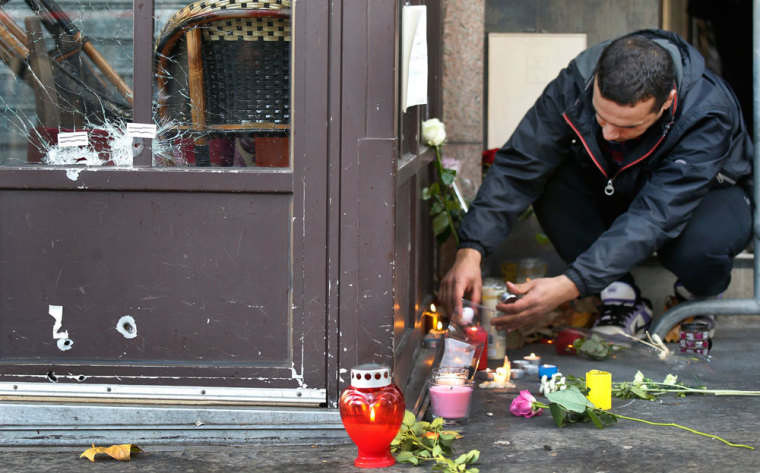 French authorities have identified one of the seven terrorists who staged six deadly attacks in Paris, killing at least 129 and injuring more than 350 people, and are investigating a Syrian passport that was found near the bodies of two suicide bombers. Three people have been arrested at the Belgian border, and Belgian police have arrested several after carrying out raids in Brussels.
One of the attackers has been identified as 19-year-old Omar Ismaïl Mostefai, from the poor Paris suburb of Courcouronnes, from the police fingerprints records, according to Agence France Presse, which said his criminal record shows eight convictions for petty crimes between 2004 and 2010, but no jail time.
Mostefai had been flagged as a radical Islamist, but had not been linked to terrorism thus far, according to Paris prosecutor Francois Molins. He was among those who launched the attack at the Bataclan Concert Hall, where American rock band Eagles of Death Metal was playing, killing at least 89 people.
Mostefai's brother and father and a woman have also been arrested. Mostefai's older brother told AFP he had no contact with his younger brother for several years.
A witness, Benjamin Cazenoves, who was at the concert at the time of the attack and described the scene to media, said he heard explosions when the band was playing a song, titled "Kiss the Devil."
"We arrived at the Bataclan around 20.30 and the concert started around 21.00. We were near the entrance by the bar and standing. The place was full to bursting," he told the French newspaper le Figaro, according to The Guardian. "Several people were sitting on the first-floor balcony. It was quite a fun rock group and the audience was aged between 20 and 50. Some parents were with their teenagers. The ambiance was very jovial. The group had been on about an hour and they'd just said 'We love you Paris' and started singing a song, Kiss the Devil, with the words 'I met the Devil and this is his song' when we heard very clearly some explosions."
He added: "We thought it was firecrackers at first, but when the sound of explosions came closer we understood. We threw ourselves on the ground straight away. There was blood everywhere around us."
Separately, three explosions took place near the Stade de France stadium during a friendly match between France and Germany attended by some 80,000 spectators, including French President François Hollande, according to France 24. At least 39 people died.
Assaults also took place in the 10th and 11th districts, including in rue de Charonne and near the iconic Place de la République.
Molins told reporters Saturday that seven attackers divided themselves in three groups to carry out six assaults across the French capital that lasted for about 40 minutes Friday evening. Six of them exploded their suicide vests and died while police killed the other.
The prosecutor also said a Syrian passport unknown to the French authorities was found near the bodies of two of the attackers, who both blew themselves up. Authorities are examining the passport to confirm if it actually belonged to one of the two terrorists.
Of the 352 people who were injured in the attacks Friday, 99 are said to be in critical condition, Molins said. The deceased and the injured are from 15 different countries, including the United States. Nohemi Gonzalez, a student at California State University Long Beach, was identified as one of those who died, and at least two other Americans were wounded, according to media reports.
Police have arrested three people at the Belgian border, and Belgian police have also made several arrests after carrying out raids in Brussels, according to media reports.
Investigators have also found an abandoned vehicle in Montreuil, four miles east of Paris, that was supposedly used by some of the terrorists.
Islamic State, also known as ISIS or ISIL, has claimed responsibility for the attacks.
In January, two gunmen stormed the offices of the magazine Charlie Hebdo, which had published satirical illustrations of the prophet Mohammed, in Paris, killing 11 people.