Pastor Accused of Sexual Assault Says Hand Slipped in Oil While Anointing Young Woman at Her Home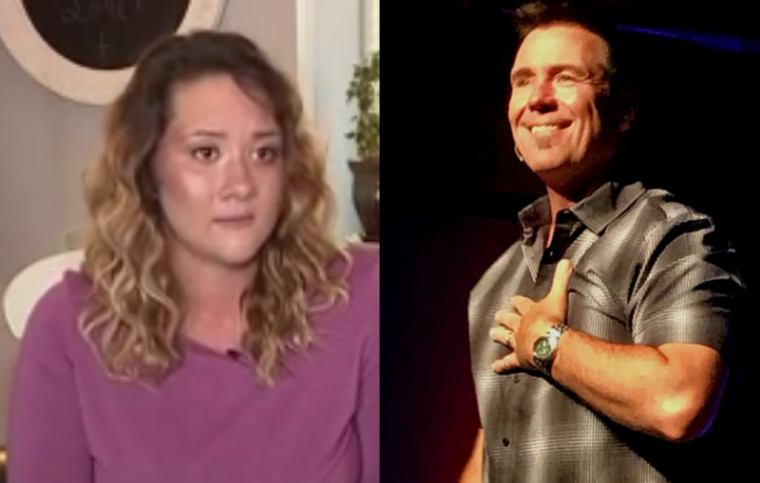 Mitch Olson, senior pastor at Grace Ministry Center in Michigan who has been accused of sexually assaulting a former parishioner during an unorthodox anointing session to cleanse her of sexual sins, says his hand might've accidentally slipped into her pants during the deliverance session.
His alleged victim Justine Morden, 20, was identified in a WXYZ report. She said she trusted Olson to help her find forgiveness for her sins because he was her pastor for several years before the alleged assault occurred nearly 10 months ago, according to Nicole Hayden of The Times Herald.
"I trusted him. He has been my pastor since I've been in sixth grade," Morden told WXYZ.
St. Clair County Prosecutor Mike Wendling told The Times Herald that they were investigating the case to determine if a crime was committed.
"Now the investigation process begins in our office," he said. "We will contact the victim and discuss the matter with the victim. We may schedule an interview with her to discuss the case. We will review the statute to see if the facts alleged are in violation of Michigan law and then we will move forward with the review."
Morden, who was living alone at the time of the alleged assault, said she sought counsel from Olson about changing her life and he suggested she be anointed to cleanse her of her sins. He told her he didn't have anointing oil at the church during a meeting in July 2016 but would eventually make time to get her anointed.
"Later on that night, around like 8 or 9, he texted me and asked what my address was," Morden told The Times Herald. "I gave him the address and didn't think anything of it since I trusted him. ... He got there and said, 'I have the anointing oil if you want to be anointed,' so I said 'OK.'"
A police report lodged with local authorities said:
Olson then said a prayer and placed oil on her head, Olson then did the same on (her) shoulders. Olson then asked if he could put the oil on her breasts (she) said yes and Olson put his hand down the front of (her) shirt making skin to skin contact with (her) breasts. Olson then put oil on (her) stomach/mid-section. Olson then asked he could put oil on (her) buttock, (she) responded yes. Olson then put his hand down the back of (her) pants and made skin to skin contact with (her) buttock cheeks. Olson then asked if he could put oil on (her) pubic area (front of pants), (she) responded yes. Olson then put his hand down the front of (her) pants and made skin to skin contact with (her) pubic region. Olson then touched (her) knees and ended with her feet.
Morden explained that it wasn't until she told her mother about the anointing session that she realized the anointing she received wasn't standard practice.
"When I explained it to my mom, she said it wasn't right," she told The Times Herald. "I believed it was what really had to be done, but he grabbed, groped my boobs."
After that, she started a public campaign against Olson to protect other women from experiencing what happened to her.
"It's the worst feeling ever and I don't want anyone to experience that," she said.
Grace Ministry Center board member Gordon Farnsworth cautioned, however, that there are inconsistencies with the narrative Morden has been sharing with the public.
".... There was a lot of discrepancy as far as the story goes and it came down to if we felt there was intent when he went over to her apartment and (the board) did not feel there was an intent of a lustful nature. Knowing (Olson) for several years and seeing what he has done for the community ... He has gone out of his way to help people and lead people to Christ. I truly feel in my heart he was trying to help this young lady. I do feel there was poor judgment that he went over (to her apartment) without anyone else there, but I feel the situation was taken out of context ... Many lives have been hurt through this whole thing," Farnsworth said.
When investigating detective Eric Stevens from the St. Clair County Sheriff Department asked Farnsworth, "Did the anointing involve Mitch anointing (her) breasts, butt cheeks, and pubic/pelvic region?" Farnsworth replied, "Yes, with the qualifier that the intent and extent of the touching is the point of disagreement between (Olson) and (her)," The Times Herald noted, citing the police report.
Former Assistant Pastor Justin Mcburney further noted in the report that Olson told him that "the oil bottle had broken, getting oil all over. Olson said it was possible his hand had slipped and his hand might have gone in her pants. Olson also said he should have not gone over to (her) house."
The Times Herald report also noted that Olson struggled with pornography and was confronted about it at another church where he worked.