Pastor Accused of Sexually Molesting 30 Girls, Human Trafficking Arrested at Airport (Video)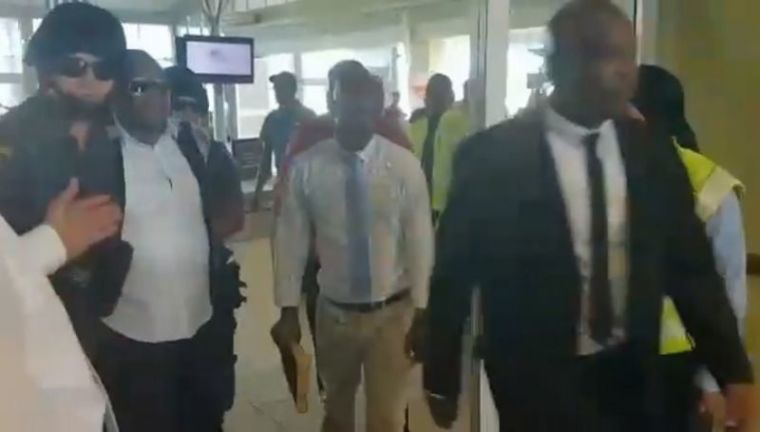 A Nigerian pastor and popular televangelist, who has been accused of human trafficking and sexually abusing girls, was arrested at a South African airport on Thursday, with the dramatic scenes captured on video.
South Africa's The Herald reported on Friday that authorities arrested Pastor Timothy Omotoso at the Port Elizabeth Airport, with footage showing the pastor being led out in handcuffs.
Lieutenant Colonel Robert Netshiunda explained that Omotoso is to appear at the Port Elizabeth Magistrate's Court on Friday, and said that the pastor is being accused of trafficking women and girls from his church to a house in Umhlanga Rocks, Kwa- Zulu-Natal, where they were allegedly sexually exploited.
Omotoso, who is Nigerian but his Jesus Dominion International ministry is based in Durban, South Africa, says that he leads an "apostolic and prophetic ministry designed under Trinitarian auspices to propagate the gospel of Jesus Christ."
Omotoso's website also claims that he is a "prophet," and that he leads "Holy Ghost" clinics, where people are supposedly "healed and delivered." The ministry reportedly has 27 churches around South Africa, with branches also in Britain, France, and Israel.
The South African Broadcasting Corporation 3 explained in a report earlier this week that Omotoso is being suspected of handpicking girls that went to his church, sending them to his house, and forcing them to have sexual relations with him.
Church leaders, such as Bishop Vusi Dube of the National Interfaith Council of South Africa, have spoken out against the pastor and his alleged actions.
"I challenge all honest Nigerian pastors to condemn this. If they don't, there will be assumptions that they have no problem with this behavior," Dube said.
News outlet eNCA reported that a manhunt was issued for the pastor after girls came forward claiming that he had lured them into his house before molesting them.
The Herald noted that the accusations against the pastor set social media abuzz, with a number of women claiming that they had been abused during his ministerial work.
The video footage from the Port Elizabeth arrest shows Omotoso's attorney, Alwyn Griebenow, and advocate Terry Price SC arguing with police officials that they have no right to arrest the pastor.
"You will not arrest him here without a warrant," Price is heard yelling after police rushed to make the arrest.
Officials claimed that they were following orders, though Griebenow argued that there had been an agreement not to arrest Omotoso at that particular time.
"Film this, film this. I want all this covered," Price shouts. "We had an agreement to meet the captain."
Omotoso is shown being led away by officers while a crowd of spectators watches, with Price continuing his protests before an airport representative: "He cannot be arrested without an arrest warrant and, when I asked, they refused to show one to me."
Griebenow has claimed that the pastor is innocent, alleging that she has videos and documentation proving the allegations against him are false.